GOP officials are reportedly looking into accusations of voting irregularities including ballot shortages and double voting, after reports of a chaotic scene unfolded during Tuesday's Nevada Caucus.
RNC spokesman Fred Brown acknowledged that there were reports of "long lines and not enough ballots at Palo Verde High School" Tuesday night, which resulted in some voters being "turned away and directed to another location."
In response to reports of double-voting, political reporter and commentator Jon Ralston reported that one GOP official said the party takes "reports of double voting very seriously and we will be reviewing ballots."
"Obviously we take reports of double voting very seriously and we will be reviewing ballots. There is a master sign in and that we will be checking closely as well. In terms of running out of ballots, we were prepared for that, and more were on site in a matter or minutes. Other thing to know is because you have multiple precincts in one spot, not the entire place was in chaos, just a select few that were rushed, which contained the problems."
Business mogul Donald Trump was declared the winner of the Nevada Caucus, taking 45.9% of the vote.
In a rally prior to the caucus, Trump warned voters to watch out for Texas Sen. Ted Cruz, claiming that he is the "single biggest liar" Trump has ever known.
"Watch out for dishonest stuff because I'll tell you what, a lot of dishonesty with this,"Trump said. "You just gotta be careful. They have paper ballots. They have the whole deal going. So just watch out."
Trump claimed Cruz is "the best I've ever seen" when it comes to lying, and then added, "Of course, really, the great liars are the ones that don't get caught, right?"
However, many of the polling irregularities that were reported Tuesday night were in connection with Trump supporters.
Twitter user Josh Jordan posted a series of pictures of caucus-goers in Trump gear, claiming that ballots were "being tucked under envelopes," and voters were "not being checked for ID."
https://twitter.com/NumbersMuncher/status/702321355430072320
National Review reporter Elaina Plott posted on Twitter that one Nevada precinct did not have its site set up, while another precinct had "40-50 loose ballots on the table" that were put under envelopes.
https://twitter.com/elainaplott/status/702323423901458432
https://twitter.com/elainaplott/status/702326376305528832
Campus Reform correspondent and Marco Rubio supporter Letty Burgin posted on Twitter claiming that some of the poll workers at her precinct were wearing Trump pins and t-shirts.
https://twitter.com/LettyBurgin/status/702319117278138368
According to the National Association of Secretaries of State, in the state of Nevada, electioneering activities including "wearing or displaying any badge, button or other insigne which is designed or tends to aid or promote the success or defeat of any political party or a candidate or ballot question to be voted upon at that election," is prohibited.
In response to the accusations, the Nevada GOP claimed, "It's not against the rules for volunteers to wear candidate gear."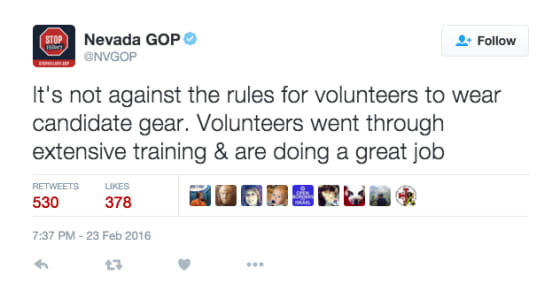 Editor's note: This article, written by Rachel Blevins, originally published on Truth in Media on February 24, 2016, and has been modified slightly for publication on IVN.