According to a recent Gallup poll published on Thursday, November 20, Americans who rate the job performance of the Center for Disease Control (CDC) as "Excellent/Good" dropped 10 percentage points from May 2013 to 50 percent. Still the third-highest ranked government agency of the 13 respondents were asked to weigh in on, media coverage of Ebola cases in the United States played a significant role in the notable decline.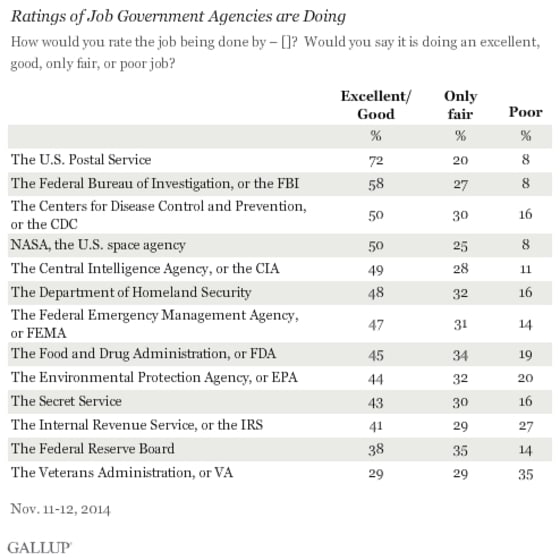 Nine of the agencies listed were asked about in the May 2013 survey, including the CDC. Of those previously measured, the CDC was the only one to see a drop in its job performance rating. Even the IRS saw a 14-point increase, but the controversy with House Republicans regarding the agency's alleged treatment of conservative organizations has cooled down and there are still plenty of months between now and April when people might have a different opinion of the agency's job performance.
The decline in the CDC's rating likely has more to do with how the media portrayed the cases of Ebola in the United States instead of how the CDC actually performed. With any life-threatening virus or sickness, the media's response is often to tap into people's fears in an attempt to boost ratings.
So far, there have been 4 cases of Ebola in the United States and the outbreak has mostly been confined to Africa even as the Obama administration refuses to implement a travel ban. So far, it seems the CDC is doing a pretty good job at response and containment.
The drop also is partisan-driven. While the CDC's rating among Democrats has dropped 8 percentage points from 71 percent to 63 percent over the last year, the drop among Republicans is much bigger. From May 2013 to November 2014, the percentage of Republican respondents who rated the CDC's job performance as excellent or good plummeted 25 points from 65 percent to 40 percent.
According to Gallup, the CDC's image is on the rebound despite the recent decline. In fact, while Americans have a negative view of the government in general, Gallup reports that people are more likely to have a positive view of individual agencies within the federal government. Of the 13 agencies listed, respondents only gave the VA a negative net rating.