Janet Napolitano (Left) // Credit: Dept. Homeland Security via Barry Bahler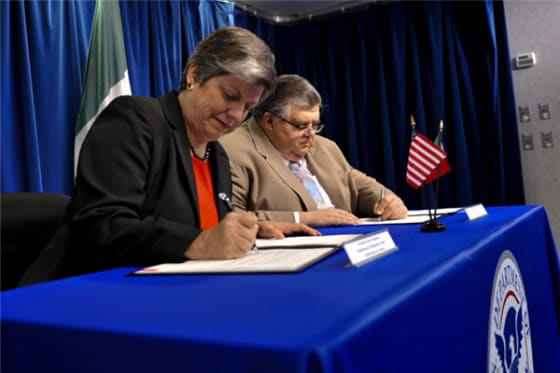 Janet Napolitano was officially appointed as the 20st President of the University of California education system Thursday. She is the first female President of the UC system.
Napolitano previously served as the Secretary of Homeland Security in the Obama Administration. She now heads to the largest  public education system in the world. The distinct career transition from safety to academia has raised more than a few eyebrows.
Last week's appointment ceremony was met with skepticism from both UC students and immigration activists. While her career in politics may be over, demonstrators at the ceremony ensured Ms. Napolitano's record of deporting immigrants was not going to be ignored.
Prior to her post in the Obama administration, Ms. Napolitano was governor of Arizona from 2003 to 2009, a border state with a similarly high Hispanic/Latino population to that of California.
Ms. Napolitano oversaw the deportation of over 1 million undocumented immigrants during her tenure as Secretary of Homeland Security, prompting a vote of rejection from Student Regent, Cynthia Flores.
With over 10,000 Hispanic or Latino students currently attending a UC campus, Ms. Napolitano's previous record of deporting undocumented workers and immigrants is particularly notable.
Flores' vote of rejection echoes the concerns many protestors had regarding Ms. Napolitano's rigid stance against undocumented workers. One protester stated, "Janet Napolitano isn't qualified at all to be UC president, her background is in law and immigration enforcement."
UC Regent Bruce Varner, however, showed strong support for Ms. Napolitano, calling her "A strong advocate for public education, from K-12 to the university level. She appreciates the importance of public research universities, faculty scholarship and research and UC's role in shaping California."
Co-chair of the Latino Caucus, Assemblymember V. Manuel Perez (D-Coachella) endorsed her appointment as well. In a statement he said, "I look forward to working with Ms. Napolitano and have confidence that our President-Elect will win the hearts and minds of our students."
The transition from a perpetually gridlocked Washington to a financially complicated public education system will not be easy, as Ms. Napolitano has acknowledged.