Credit: Salon.com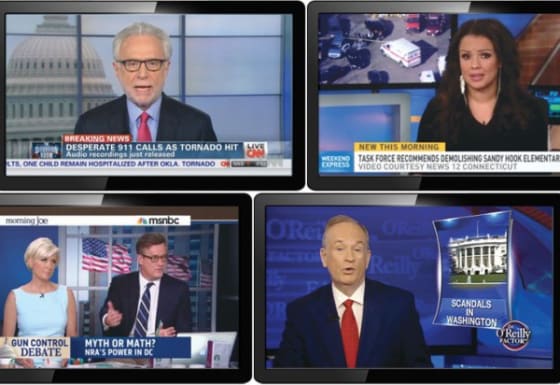 In a time when partisan gridlock has plagued the political system and divided the nation, Americans of every party affiliation agree on at least one thing: television is their primary source for news.
According to a Gallup poll released Monday, 55 percent of Americans say television is their preferred method of staying informed on news and current events. The Internet came in second at 21 percent, followed by print media at 9 percent, and radio at 6 percent.
Overall, those who identified as independent voters recorded the lowest rate of television use at 52 percent, compared with Democrats at 54 percent and Republicans at 63 percent.
Preferred news network varies greatly based on political alignment. Twenty percent of Republicans surveyed pointed to Fox as their primary news source, a sentiment shared by 1 percent of Democrats and 6 percent of independents.
Democrats on the other hand preferred CNN, with 10 percent labeling it their primary news source (along with 6 percent of independents and 4 percent of Republicans). Two percent of Democrats, 1 percent of independents, and almost no Republicans pointed to MSNBC.
Of those who cited Fox as their primary news source, 67 percent identified as Republican, 31 percent as independent, and 3 percent as Democrat. Of those who cited CNN, 17 percent identified as Republican, 37 percent as independent, and 46 percent as Democrat.
Independent Fox viewers tended to lean right, bringing the total of those who were Republican or leaning Republican up to 94 percent, with 3 percent claiming no lean and 3 percent claiming either to be Democrats or lean Democrat.
Independent CNN viewers tended to lean left at a higher rate, but still had several who leaned right, with 63 percent Democrat or leaning Democrat, 26 percent Republican or leaning Republican, and 10 percent remaining independent.
Of those who named a specific network or publication, independents showed the most diversity in their choice of networks outside of Fox and CNN. Various independent respondents cited eight sources other than the two major television networks -- the top three being ABC, NPR, and Univision.
Democrats cited six sources -- the top three being the New York Times, NPR, and MSNBC. Republicans cited two sources total: ABC and the Wall Street Journal.
This poll reveals that there may be some truth to the claim that Republicans get most of their news from Fox, generally considered to be a conservative network. Democrats on the other hand tend to favor the generally less-partisan CNN over the more liberal MSNBC.
It also demonstrates that the term "independent" covers a broad spectrum of political thought. Independents were drawn in similar numbers to Fox and CNN.
Independents were also the most likely to get their news online, with 24 percent citing the Internet as their primary news source, compared with 20 percent of Republicans and 18 percent of Democrats. This could be attributed to independents being more likely to seek out alternative media online than other voters, though confirming that assertion would require additional polling data.