California Common Sense (CACS) provided an infographic (below) that illustrates the differences between Senate Bill 69 and Governor Brown's education funding proposals. The two will be the competing plans to bring money to K-12 schools.
SB 69 relies on higher revenue projections that were provided by the Legislative Analyst Office (LAO). Gov. Brown's plan relies on the more modest estimates from the Department of Finance.
Base grants are the amount of money given to all districts. SB 69 supplemental grants are an additional 40 percent of the base grant, per-pupil, for the percentage of disadvantaged students in a school district. The governor would have supplemental grants at 35 percent, but have additional concentration grants for struggling districts.
Per-pupil funding would result in the following in SB 69:
0 percent english learning/low-income (EL/LI) students = $7,378; 25 percent EL/LI = $8,116; 50 percent EL/LI = $8,854; 75 percent EL/LI = $9,591; 100 percent EL/LI = $10,329
Disadvantaged students are those who are free or reduced school lunch recipients, English learners, or a foster child.
The infographic assumes that the state crafts the 2013-2014 budget with the Department of Finance's lower projections. With that in mind, here is how both plans pan out in per-pupil funding: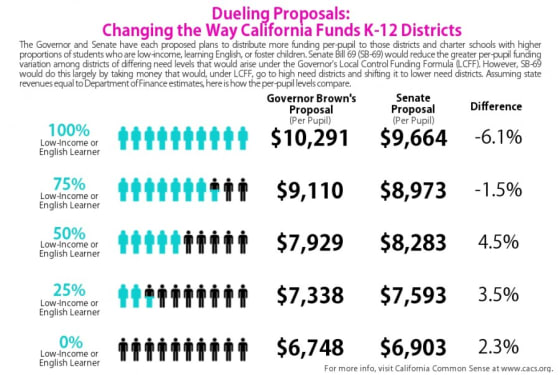 Credit: California Common Sense, cacs.org
For more on the state's education funding proposal debate, check out previous coverage on IVN: