(Credit: YouTube.com/ErikaHarold)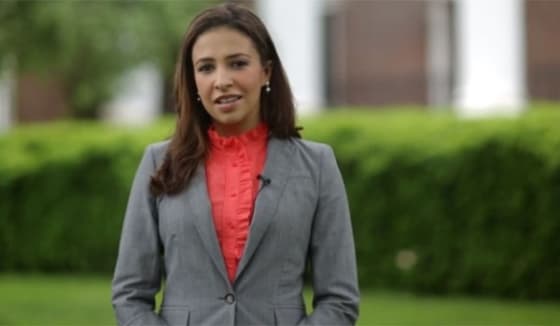 In the Illinois 13th congressional district, a former Miss America winner is challenging one of the House's newest members.
Erika Harold, the 2003 Miss America, announced last week that she was issuing a primary challenge to Republican US Rep. Rodney Davis, a freshman congressman. Also a graduate of the University of Illinois and Harvard Law School, Harold was a delegate to the 2004 Republican National Convention.
In her campaign announcement video, with a subtle, but not overwhelming musical score, Harold struck a positive and hopeful note. She also did not mention her opponent by name:
"At each point in my life, I've sought to serve. Whether it was by defending religious liberties as an attorney, preventing youth violence and bullying as Miss America, or doing prison ministry as a volunteer. I'm now seeking to continue that service by running to represent Illinois' thirteenth congressional district. . . . I'll advocate for fiscal responsibility, work to safeguard our constitutional liberties, and promote our district's agricultural and educational interests. But most of all, I'll remember that the title, Member of Congress, is more than a title to earn - it's an opportunity to serve."
In a statement to Politico, Harold also kept it positive and did not demonize her opponent:
"I view this primary process as being very healthful to the party because we will be able throughout the campaign to debate the issues that are important to the party. . . . "I think [Rep. Rodney Davis] is a good person, and that's why I think in this case this can be a positive primary process where we can both make a positive case to the voters about why we can be a good representative."
Davis, a longtime congressional aide, was nominated by the Republican Party chairmen of the district to run in 2012 when incumbent Tim Johnson retired after the primary. Harold was one of a number of others vying for the open seat. In the November election, Davis narrowly defeated Democrat David Gill by one thousand votes, with a former Republican running as an independent receiving seven percent.
Although he has not been in office more than six months, Davis gained notoriety as one of ten Republicans to vote against a bill shutting down the National Labor Relations Board.
The newly-redrawn thirteenth district encompasses parts of central and west-central Illinois. It includes all or parts of twelve counties.
It is very early in the campaign process, so the tenor and tone may yet change. However, the thirteenth district in Illinois has a unique dynamic because the incumbent has not yet faced the party's primary voters. The incumbent faces a charming challenger who is likely to attract grassroots support.