Senate President Pro tem Darrell Steinberg at PPIC conference // Credit: PPIC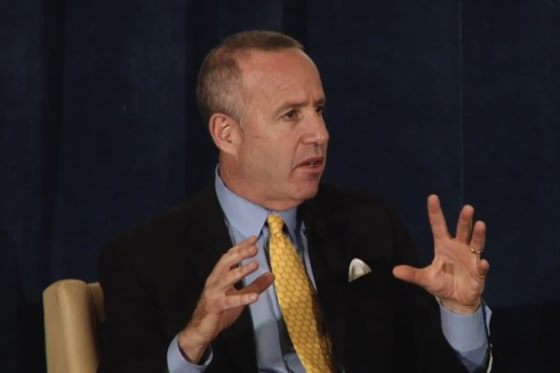 Speaking at a Public Policy Institute of California discussion Thursday, Senate President pro Tem Darrell Steinberg (D-Sacramento) remained optimistic about the outcome of California's ongoing budget negotiations. When asked by PPIC President Mark Baldassare if the legislature was aligned in budget discussions, Sen. Steinberg responded,
"[I]f there's no creative tension then we're not pushing each other hard enough, and that's what we have here. We are basically aligned. We all agree that fiscal stability is the first priority. That we need a significant reserve. That we need to aggressively pay down debt."
An area of friction between Governor Jerry Brown and Democrats in the legislature has been the extent to which funds should be restored to programs that were cut in previous years.
Sen. Steinberg outlined his vision for more aggressive restorations to dental healthcare for poor Californians, and mental health infrastructure. Yet, the Senator tempered expectations, adding,  "We can't make up for all that has been lost. We can't, as much as we would like to."
Another contrast between Governor Jerry Brown's revised budget proposal and Sen. Steinberg's budget ambitions was the significant investment in California's mental healthcare infrastructure. Concerning both at-risk youth and adults, the President pro Tem discussed his plans for expanding the state's role in mental health care. He called for $142 million to create 'crisis-stabilization' facilities which would help alleviate the burden on law enforcement and traditional emergency healthcare services.
Anticipated revenues from Brown remain nearly $3.2 billion lower than those assumed by the Legislative Analysts Office. Likewise, Democrats are pushing the Governor to dip into projections to increase support for programs like education and Medi-Cal.
"I'm relatively confident that we're going to come together, pretty nicely actually. Have a third on-time budget in a row and start that new tradition in California."
The deadline for a budget deal is June 15, after which lawmakers would forfeit their salaries until one was reached.
http://www.youtube.com/watch?v=UorgX1s5U5g&list=PLE43F1E7301CAC1B4