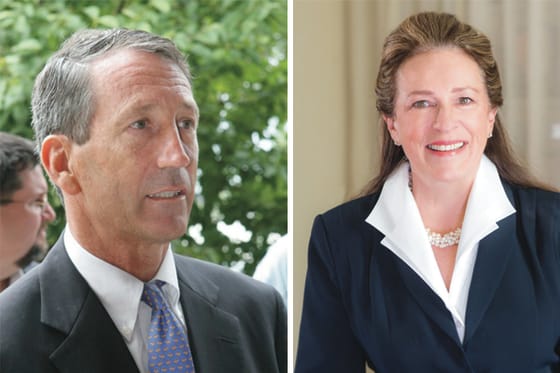 Going into election day on Tuesday, May 7, Elizabeth Colbert Busch (Democrat) and former Governor Mark Sanford (Republican) are closely matched in both poll numbers and funds in the South Carolina special election. The tense first and only debate between the two last week has split spectators on the outcome. However, most favor Colbert Busch given Sanford's recent trespassing debacle.
Likewise, competing polls have either Colbert Bush leading slightly or tied with Sanford. The race has become surprisingly close given the significant lead Sanford enjoyed at the outset of his campaign and the historically conservative lean of the district.
According to OpenSecrets.org, the candidates have spent a combined $1.5 million on the race. Colbert Busch leads Sanford in fundraising, while both are evenly split in cash on hand. Colbert Busch's fundraising strength comes from stronger support among small donors, yet she's been able to keep up with Sanford regarding large donors as well.
"[B]oth candidates received roughly equal funding from large individual donors -- those who give more than $200. Those donations, which are itemized in FEC reports, amounted to $432,000 for Colbert Busch and $405,000 for Sanford. But when it came to small individual donors, giving $200 or less, Colbert Busch had a huge lead. She received $339,000 from small donors, while Sanford picked up just $35,000."
Independent expenditures from organizations like Super PACs have poured in as well. Recent spending from groups either supporting Sanford or opposing Colbert Busch include Freedomworks, Independent Women's Voice, and the National Right to Life Victory Fund.
House Majority PAC, South Forward, and the Democratic Congressional Campaign Committee have either spent in support of Colbert Busch or against Sanford. Spending from these groups has produced a number of online and television advertisements attempting to sway voters one way or another, or simply dissuade them from voting altogether.
This one is from House Majority PAC:
http://www.youtube.com/watch?v=ERK_pExyer8&feature=player_embedded
Independent Women's Voice bought nearly $90,000 in advertising to close out the race, according to filings with the FEC. The advertisement titled "Elizabeth and Rich" is not available online yet.
With less than 48 hours before polls open on Tuesday, South Carolinians face an uncanny choice between a familiar, yet potentially unforgivable Sanford, and the Democratic newcomer, Colbert Busch.