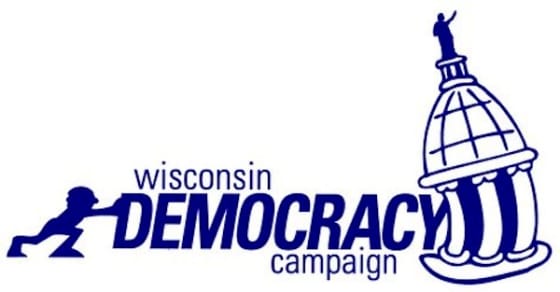 Earlier this month, a prominent and award-winning political watchdog group in Wisconsin, the Wisconsin Democracy Campaign, had its budget cut in half after losing funding from one of its biggest donors.
Since 1995, the Wisconsin Democracy Campaign (WDC) has provided the Badger State with increased transparency and an easy-to-follow paper trail for money in state politics. The organization offers the state's only searchable online database of contributors to state campaigns, a service that currently houses nearly a million records -- 100,000 of which were added in 2012 alone. Tweet
The information provided by the database helped produce more than 300 newspaper stories and over 200 TV and radio stories last year. Thanks to its efforts to raise awareness and improve accountability in government, the Wisconsin Democracy Campaign won the 2012 "Citizen Openness Advocate of the Year" award from the Wisconsin Freedom of Information Council and the Society of Professional Journalists. Unfortunately, its services could be coming to an end. Tweet
A large portion of the WDC's budget came from the Joyce Foundation, the biggest funder of democracy works in the region. The group, based in Chicago, says it is dedicated to "Improving the quality of life in the Great Lakes region and across the country."
The Joyce Foundation previously provided up to half of the Wisconsin Democracy Campaign's annual budget. With the money of the foundation now gone, WDC Executive Director Mike McCabe fears his organization may no longer exist.
"Losing this funding puts in doubt the continuation of a marvelous instrument of political transparency and accountability," he said. Tweet quote: Tweet
Though the Joyce Foundation had provided funding for WDC for the last 16 years, its support ended abruptly. McCabe explained:
"We were not given an explanation of the decision. Nor did we have any inkling that this news was coming. There was no advance warning. In fact, we were invited to apply for renewed funding and all visible signs were pointing toward approval. We were surprised to say the least."
When prompted for an explanation, the foundation's director of communications, Katie McCormick Lelyveld, stated:
"The deliberations and decisions by the Joyce Foundation's board are private, and we cannot comment on them, but we are proud of the work we are funding in Wisconsin on a series of issues, including working with our partners to build a stronger, healthier democracy in the state."
She added that the foundation will be "maintaining...funding to LWV WI, Common Cause, and Wisconsin Voices."
McCabe and his partners are turning to alternative sources to make up for the loss, including the public. Wisconsin Democracy Campaign runs a small and efficient operation, with a single staffer running the money-tracking database and an another running the research branch.