Photo: Khalid Mohammed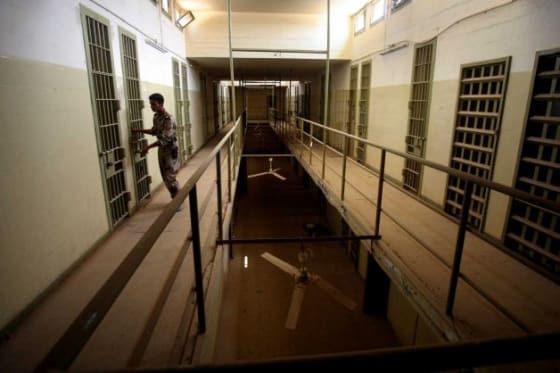 The first lawsuit involving defense contractors accused of conspiring to torture detainees at Abu Ghraib in Iraq concluded last week with a $5.28 million settlement to the 71 former inmates. Each received a portion of the money.
The Abu Ghraib settlement was the result of a successful lawsuit against Engility Holdings Inc. and is only the first of many cases against contractors that have been filed in courts across the U.S. Another contractor, CACI, has a projected trial date of summer 2013.
Between 2003 and 2007, prisoners at the detention center were subjected to mock executions, severe beatings, and torture. Evidence of the abuse became public in 2004 when photographs of naked inmates surfaced in the press. Lawsuits for the abuses were filed in 2008.
Across the United States, many human rights groups cheer the decision, even if they did argue that the dollar amount rewarded might be inadequate in relation to the scope of the crimes. The legal director at the Center for Constitutional Rights (CCR), Baher Azmy, reported that "private military contractors played a serious but often under-reported role in the worst abuses at Abu Ghraib. We are pleased that this settlement provides some accountability for one of those contractors and offers some measure of justice for the victims."
The legal action against the defense contractors rather than the U.S. military itself is a concerted legal strategy, since the U.S. government has immunity from suits involving combat activities of the military in times of war. Since courts have not decided whether contractors in a war zone should be accorded the same immunity, legal actions have focused on the contractors, as this settlement shows, to a measure of success.
However, if, as the CCR argues, the settlement is providing a form of accountability and justice, then the settlement acts as a method of reparations. The International Center for Transitional Justice, a New York based NGO, defines reparations as a form of compensation for acknowledging and taking responsibility to address harms caused by widespread or systematic human rights violations. While the United States might be immune from prosecution, states are seen as holding a legal duty to acknowledge and address gross violations of human rights. The focus on defense contractors is a way to receive a form of tangible reparations for the former inmates at Abu Ghraib, but the focus on private entities rather than the U.S. government also elides the responsibility of the government to provide accountability for the actions that were committed there.
George W. Bush, president at the time the scandal surfaced, called the abuse "abhorrent" and eleven U.S. soldiers were eventually convicted of crimes including aggravated assault. However, the U.S. has failed to provide compensation for the abuses, as these contractors are being forced to pay. With no ability to prosecute crimes committed by the military, the focus remains on contractors for the time being.