Credit: NBC News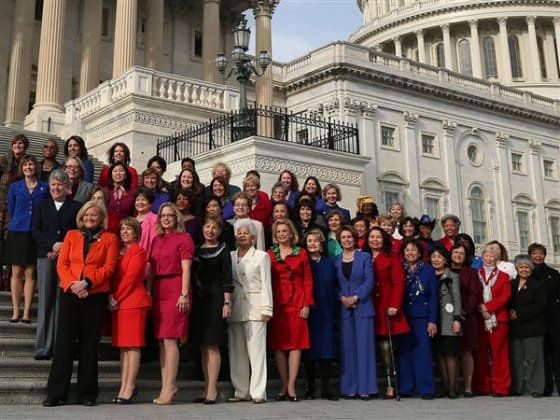 On Thursday, members of the newly elected Congress gathered on Capitol Hill to ring in the new year, as the 113th Congress opened. Ten bills relating to gun violence were introduced, Senate Majority Leader Harry Reid extended the "First Day" of Congress to allow for possible changes to Senate rules and filibuster reform, John Boehner was re-elected Speaker of the House, and Vice President Joe Biden swore in new and re-elected members of Congress.
We welcomed the new Congress by holding a political tweet chat on the importance of and barriers to compromise in Washington. The 113th Congress may be the most religiously diverse Congress in history, and it may include the most number of women, but the advantages inherent in electing a more representative government can only be discovered if our leaders can work together to pass meaningful legislation.
In our discussion about "Compromise and Nonpartisan Solutions" we touched upon issues like the fiscal cliff, gerrymandering, and political parties, while focusing on nonpartisan solutions like campaign finance reform, open primary elections, filibuster reform. We opened the chat by asking our participants on both Twitter and Facebook:
What New Year's resolutions do you think leaders in Washington should make this year?
"To commit to socializing together across party lines, discussing, and seeing each other as people. That builds trust and solutions." - Aaron on Twitter "Filibuster less than in 2012." - Alex on IVN.us "Learn how to negotiate and come to a common middle ground for the better of the country, not their parties." - Kamil on Twitter "The New Year's resolution for all of our elected officials should be to put the Oath of Office before personal politics." - Shawn on Twitter "Stop working for the betterment of corporations and start making decisions that benefit the citizens and our environment." - Jessica on Facebook "Filibuster, preserving civil liberty, promoting active communities, and advocating for women." - Terri on Twitter "Not to vote on any legislation they haven't actually read." - Ken on Twitter "Get rid of the current filibuster rules. Ya wanna filibuster, gotta talk till ya drop. Also, the way campaigns are financed, especially since Citizens United, makes it hard to be honest and work for the people." - Simon on Twitter "Stop letting corporations or companies owned, operated or fund by politicians in high office." - Christopher on Facebook "I'd prefer active problem-solving rather than New Year's resolutions. Resolutions politicians make seem like publicity stunts." - Glen on Twitter "Talk more to each other about the issues." - Emma on Twitter "Lobbying reform is a must." - Ryan on Twitter "Don't oppose just because you're in opposition. Your country's health is more important than your partisan pride." - Dave on Twitter "I think they should resolve to vote along the interest of greatest public good." - Ronald on Facebook "Congress should spend more time in Washington. One of the causes for the polarization in politics is the relationships." - Beatrice on Twitter
Didn't get a chance to respond? Sound off and share your thoughts on our newly elected Congress below.