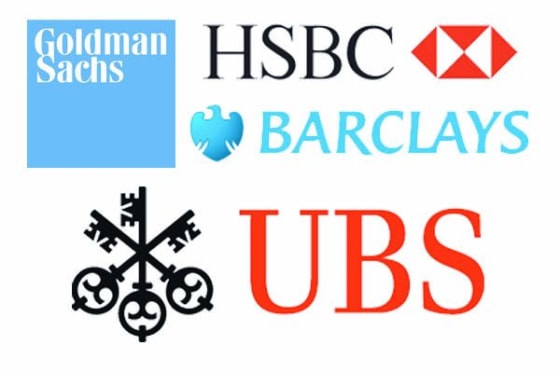 2012 was an exciting year for the Securities and Exchange Commission. This year the UK emerged as a hotbed for corrupt bankers following the Libor interest-rate fixing scandal. Goldman Sachs and JP Morgan Chase also threw their hats in the ring with a settlement for the fraudulent sale of mortgage-backed securities, and former Goldman Director Rajat Gupta was sentenced to 2 years in prison for insider trading. This is a brief look at some of the biggest bank scandals of 2012.
Barclays
After being fined £290 million for participating in fixing the London Inter-Bank Offered Rate, or LIBOR, the Federal Energy Regulatory Commission fined the British based banking and financial services company $470 million in November. Barclays denies charges of manipulating California energy markets from 2006 to 2008, and remains confident the charges won't hold up in court. Whatever the outcome in 2013, Barclays has weathered quite the storm this year, although no employees have been sent to prison. COO Jerry del Missier, Chairman Marcus Agius, and American CEO Robert Diamond all resigned by July.
Hongkong Shanghai Banking Corporation (HSBC)
HSBC was more recently wrapped up in financial scandal. Earlier this month, the bank accepted a $1.9 billion settlement on charges of money laundering related to drug cartels. Investigations were originally launched in 2007 in response to irregular cash flows originating from HSBC branches in Mexico. As it turns out, more than $881 million of drug cartel cash had made its way through banks in the US by 2010. The Group's Chief Executive issued a statement of apology. "We accept responsibility for our past mistakes. We have said we are profoundly sorry for them, and we do so again." None of those involved have gone to prison.
Union Bank of Switzerland (UBS)
Swiss-based bank, UBS, plead guilty to felony wire fraud charges brought forth by the Department of Justice this week. Fallout from this year's LIBOR scandal brought UBS Chairman Axel Weber down to Washington D.C. to urge the DOJ to reconsider the $1.5 billion in fines. It didn't. However, it looks as though no one will be going to jail for misdoings.
 Goldman Sachs
One banker who actually is going to jail this year is former Goldman Sachs director Rajat Gupta. He was sentenced to two years in federal prison for insider trading. Rajat was also fined $5 million. The four counts of felony conspiracy and securities fraud resulted from passing nonpublic information gleaned while present at Goldman Sachs board meetings, to an accomplice hedge fund manager, who is also serving jail time.