Credit: livethedesertlife.com
Creating an entire new menu is a tough task for any restaurant. One would think that all pizza restaurants follow the same initial format in constructing a suitable menu. Pizza, italian hoagies and grinders, salads, breadsticks, beer, and maybe even a cheesesteak are what typically come to mind. San Diego-based pizza chain Sammy's Woodfired Pizza and Grill has expanded from "humble" beginnings in 1989 La Jolla to eighteen locations throughout Nevada and California with their original menu. Most will be happy to now that Sammy's will be returning this menu before the year's end.
In a December 18 press release, Sammy's announced that after launching a new menu this past summer, in response to customer request they will be bringing back items that were cut. Doing so, they have returned to serving "globally inspired" classics and originally recipes oak roasted in their wood-fired oven. Their award-winning pizzas (in both original and artisan thin crust), pastas, salads, and infamous "Messy Sundae®" are menu mainstays, but the also offer tapas, soups, sandwiches, and other full entrees.
"Being an innovator whose first priority is our customer means that sometimes adjustments need to be made to provide the best experience and service possible," said Nicole Abraham, vice president of marketing for the Sammy's. "We knew how passionate our diners were about Sammy's, but after the overwhelming response we realized this, and the importance of returning to our core business, even more. This is especially true as we continue our growth into 2013."
Sami Ladeki, founder of Sammy's. Photo credit: vegasseven.com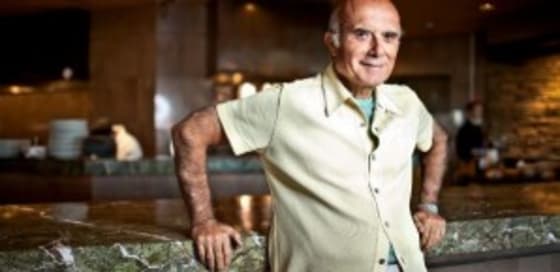 Some of Sammy's patrons' favorites returning to the menu are: Lobster mac 'n' cheese, Thai chicken satays, Baba Ghanoush, crab & shrimp dip, crispy french fries, prosciutto pizza, five cheese pizza, Thai chicken or shrimp pizza, Chinese chicken salad, and the grilled chicken & hummus wrap. Their Margherita pizza, garlic chicken and shrimp pizza, chopped chicken salad, and quite a few others will also be prepared fresh utilizing the original recipes.
This year Sammy's opened a new location in Studio City, California, and licensed a restaurant in the American Airlines terminal at LAX as well. In 2013, plans include a new flagship, and airport location in Las Vegas sometime during the spring.
From their start in 1989 as a singular pizza parlor in La Jolla, Sammy's Woodfired Pizza and Grill has leaped great bounds in stature. Since they are going back to their original roots, San Diegans are treated to things as they are used to. With locations from El Cajon to Oceanside, it is fairly easy for them to do so.