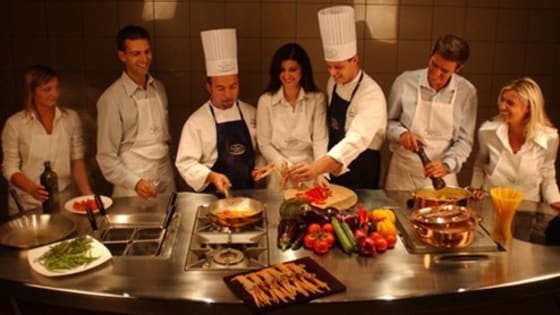 It is that time of year again when we get together with our friends and family to partake in the utmost of holiday activities - eating. How does one decide on who will be cooking? As the stress of cooking for the many guests over the holidays can be rather stressful. To help ease the tension out of holiday cooking, several places throughout San Diego are offering holiday cooking classes to help you prepare for the holidays.
Cups Culinary Teaching Kitchen in La Jolla specializes in organic cupcakes and offers cooking classes this winter. "Cups" has turned its cupcake shop and kitchen into one of the best cooking schools in San Diego. They offer themed cooking classes every week that are run by local Chefs. Also, they are putting together a Holiday cookie exchange which will take place on December 16 - which should help you to assemble the perfect Holiday cookie platter and you even get to take home a platter of cookies to display.
Sur La Table in the Fashion Valley Mall is offering cooking classes throughout the month of December to help you prepare the perfect holiday treats this year.  Saturday December 15 Sur La Table is hosting a class on holiday macaroons, Le Creuset Winter Favorites on December 20, and holiday cookies on December 21. Every student will receive a signed copy of the Ina Garten's latest book, Barefoot Contessa Foolproof: Recipes You Can Trust.  To view the full schedule and pricing details, visit surlatable.com.
Hipcooks, located in North park, is a "hip" school that is providing students with hands-on cooking class specifically on organic foods, which is designed for all skill levels. On December 15, they are hosting a holiday feast, the I Aint No Turkey class, that is helping you to prepare a full Holiday dinner including dessert and a Christmas cocktail to all students. To view the full schedule and pricing details, visit sandiego.hipcooks.com.
All three of these San Diego Cooking schools should take the stress out of the Holiday preparation this year and give you some delicious ideas too.