Photo credit: espn.go.com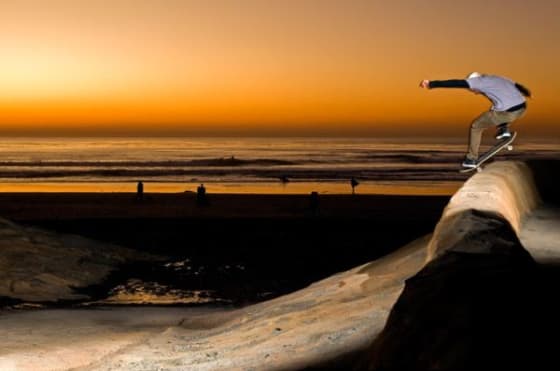 Bob Filner campaigned for mayor of this fine city under the promise to "give power back to the neighborhoods" by utilizing redevelopment funds where they have since been lacking. Last Thursday, the newly-elected mayor spoke to a crowd of young skaters at a City Heights rally, where the push to construct a skate park in the area has been ongoing for the past few years.
"Skate, se Puede," said Filner, borrowing from the famous progressive Cesar Chavez saying "Si, se puede."
According to an article by KPBS, Filner further referenced the fact that the city has a budget of $3 billion. This is obviously a rather large budget, of which he felt that if they could not accomplish the building of a skate park, they should "pack up."
There are three proposed locations for the potential skate park: a dirt lot in Park De La Cruz, a mini-park off Central Avenue, and next to the future Copley-Price Family Center YMCA.
Since the cost of building a decent skate park (concrete or otherwise) costs anywhere from $3.5 to $5.5 millon dollars, an ideal location for the proposed park would most likely be the new "Y." This is because the city already owns the property, and could build the park adjacently to the recreation center, saving the city quite a good chunk of change.
Skatepark Affairs in the City
Due to budget cuts, there has been an outcry from some around the city that a few of the parks have fallen into disrepair, are unsupervised, and cost no money to skate. A local blogger for silverfishlongboarding.com, Tony Perry, called out this issue back in 2009.
A skater at Robb Field, with protective wear. Photo credit: Tim Metz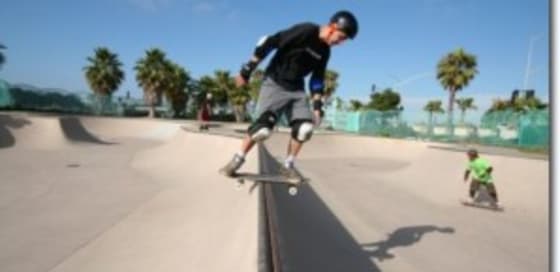 Referencing the Robb Field Skatepark in Ocean Beach, Perry was seemingly distraught at the lack of supervision seen at the park, as well as graffiti and public safety issues. The park since has born a set of rules that seem to be more like suggestions.
"[There is] freedom not to pay $5 to zoom up and down the concrete swells," said Perry. "Freedom not to wear helmets at the risk of cracking their heads. Freedom to smoke while they skate, drink beer, bring dogs, and ride minibikes amid the skateboards and scrawl graffiti."
The skatepark at Robb Field is definitely unsupervised, and skaters wait their turn to drop in. During warmer months, however, skate camps are held for youth skaters, of which instructors are constantly present. The park is not only limited to skating, but biking, scooters, and basically anything with wheels as well. Though most wear helmets and protective gear, their is ultimately no rules necessitating that those in the park do so.
In regards to the graffiti issue, Ocean Beach Town Council has taken up the issue itself, commissioning an artist to paint the roadside barriers which separate the park from Sunset Cliffs Boulevard in an aesthetically-pleasing fashion.
This background is not meant to solely point out the negatives of unsupervised skating, but simply to highlight the fact that decent parks can fall to disrepair if not maintained or regulated. If the city aims to build a new park in City Heights, it will undoubtedly be a costly venture in which all aspects of its use should be taken into account.