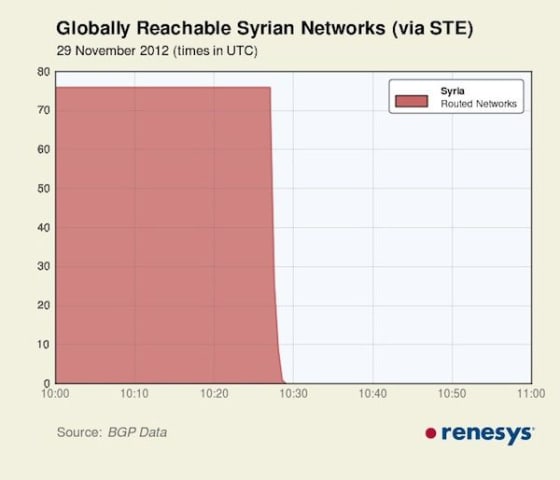 Yesterday, Renesys, a global internet intelligence agency, reported 92% of routed networks in Syria had suddenly, and simultaneously, become unreachable. The internet in Syria seemed to be almost completely offline, and currently remains as such.
The black out is suspected to have resulted from government forces' further stifling of the uprising there, which has lasted close to two years. There are three underwater lines in the Mediterranean  as well as one landline that offers connectivity through Turkey, but this has been on and offline sporadically in recent months.
The Syrian government is claiming rebel forces have cut the lines and denied any wrongdoing. The Minister of Information stated, "It is not true that the state cut the Internet. The terrorists targeted the Internet lines, resulting in some regions being cut off." However, given the layout of connectivity, as well as their simultaneous disengagement, makes it unlikely that the loss of connectivity was due to severance of or damage to the physical lines.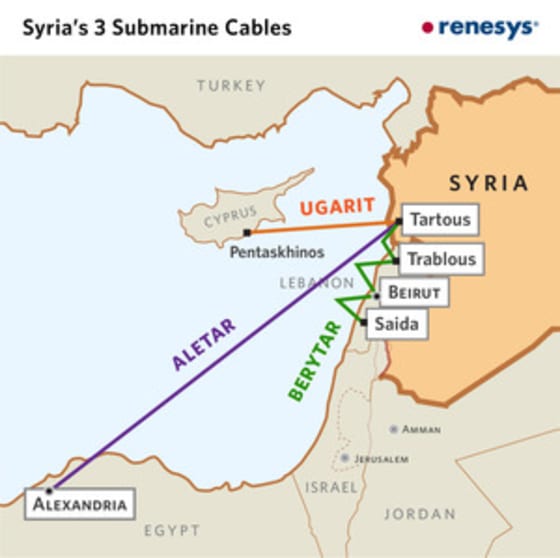 It appears that some Syrians are beginning to reach out through Speak 2 Tweet, a Google-Twitter partnership that allows users to have their voices heard without an internet connection. Users can call a phone number, record a voice message, and the Speak2Tweet Twitter account will tweet it. This tweet, from 11 AM PST on November 30th, says "Freedom to Syria" in both Arabic and English.
https://twitter.com/speak2tweet/status/274587314427138048
A report by Al Jazeera, quoting Amnesty International, called the developments "very disturbing," as the troubled nation becomes further cut off from the outside world while turmoil and violence rises. Given the uprising's heavy reliance on the internet for organization and for reaching out to the international community, the internet blackout is concerning and a significant development in the Syrian crisis.