Credit: Olivier Corsan for La Parisien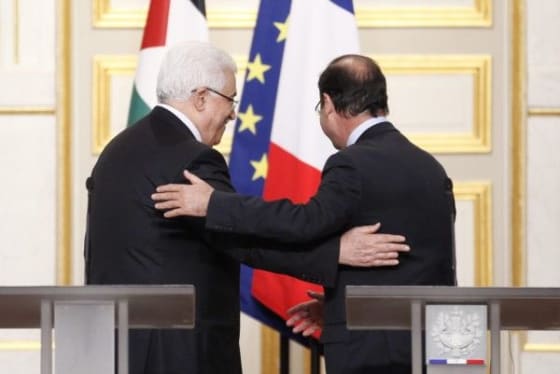 On Tuesday, French Foreign Minister Laurent Fabius declared in front of the French parliament that France would vote for the resolution on Palestine's non-member observer state status later this week. France becomes the first major European nation to have made such statement.
France's support was not evident when considering the French President Francois Hollande declaration in late October, during the visit of Benyamin Netanyahou. Hollande said, "There is also the temptation for the Palestine Authority to search at the UN General Assembly what it does not get from negotiation. Only negotiation will lead to a definitive solution to the Palestinian situation." The timing of the resolution, coming soon after a weak ceasefire deal was reached between Israel and Gaza, as well as the strong opposition to the resolution from the United States and Israel has also led France to be reserved about its position.
However, France's longstanding support to the creation of a independent Palestinian state finally prevailed and Paris made its official position known through its foreign minister's declaration on Tuesday. France's support for a Palestinian state goes back to a 1982 when former President Francois Mitterand states his favor for such a state in front of the Knesset, Israel's parliament. Since then, France has been supportive of the Palestinian Liberation Organization, often raising tension with Israel. The head of the PLO Yasser Arafat, passed away in Paris in 2004. France also voted in favor of Palestine's full membership to UNESCO in 2011.
In 2011, Palestine failed to receive the support of the Security Counsel for a full state membership, mainly because the United States threatened to use its veto power. The upcoming vote on Thursday would be for a more restricted status, the status of non-member observer state, like the Vatican, and would allow Palestine to participate in the General Assembly debates. This move has its advantages, such as improving Palestine's chances to join UN agencies, as well as the International Criminal Court.
The resolution needs a simple majority of the 193 voting members to pass, as veto powers are not available in the General Assembly. The resolution should pass, as more than 130 countries already recognize Palestine as a sovereign state, according to the PLO. In addition to France, half of the European Union members are expected to vote in favor of the resolution. The UK remain undecided but could vote in favor. The United States and Israel will vote against the resolution.