Credit: Mashable.com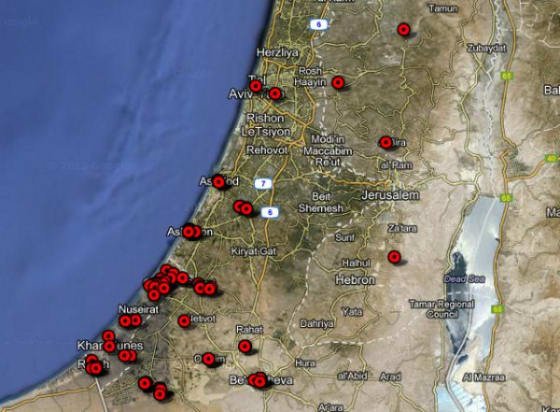 As the Israel-Gaza conflict escalates, accounts of violence are filling the airwaves, with reports of the airstrikes coming from both the Israeli Defense Force and Hamas operatives. The war zone continues to restrict access to journalists and foreign reporters, making it difficult to find detailed accounts of the conflict. While both the Israel Defense Force and Hamas military are live-tweeting the conflict in real time, it is hard to distinguish between what is accurate and what is mere speculation.
To help readers follow the conflict, The Guardian has created a Google Map that locates the attacks that have ensued since the November 14th assassination of Hamas military leader Ahmed al-Jabari. The interactive Google Map shows you locations of verified incidents. By clicking on a red dot, you are provided with information on the incident, including the date, the number wounded or dead, and a link to the verified source.
For those with friends and family in the region, the map allows you to search a location and see surrounding attacks. It is not all-inclusive, however, and The Guardian invites readers to submit more details, their own videos and photos, and any relevant information:
Is this an effective tool for mapping the Israel-Gaza Conflict?