Credit: http://www.the3day.org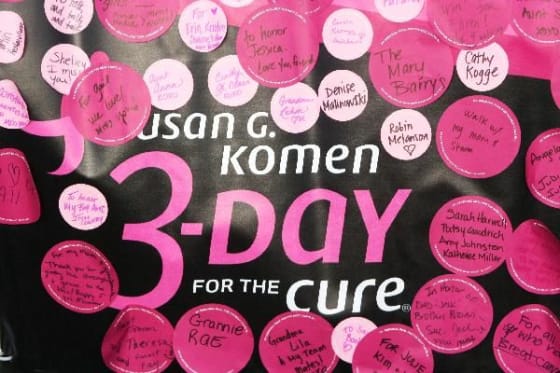 Each year, people across the country participate in the Susan G. Komen 3-Day to raise millions of dollars for breast cancer research, education, and community health programs. This 3-day, 60-mile walk will be held in fourteen cities, including San Diego.
Since its inception, the walk has raised more than $500 million. The net proceeds fund the Susan G. Komen for the Cure mission to end breast cancer by empowering people and energizing science. Through global research and grant programs the foundation strives to ensure quality care for all people, everywhere.
Tomorrow morning thousands of San Diegans will join together to walk-for-a-cure through the city. Beginning at 7:30am in Del Mar, participants, who have committed to fundraising, training, and a three-day weekend to the event, will walk an average of 20 miles a day.
Participants raised a minimum of $2,300 through personal fundraising pages. If you'd like to make a donation to support a participant, you can search by individual or team name to find their fundraising webpage.
Although the deadline to participate in the walk has past, there are still several ways to help raise funds for the cause against breast cancer. San Diegans are invited to join in supporting the walkers by attending the walk or by donating a few cases of bottled water to various water donation stations.
The event also raises funds through the Matching Gift program, which allows San Diego businesses the opportunity to double the donations their employees contribute. If you plan to make a contribution and would like to see if your company is a part of the Match Gift program, click here.
To learn more about the upcoming walk and how to get involved, please visit San Diego's Susan G. Komen 3-Day website.