Pork Belly-Topped Burger at BO-beau, one of the participating restaurants in OB Restaurant Week 2012. Credit: http://aht.seriouseats.com/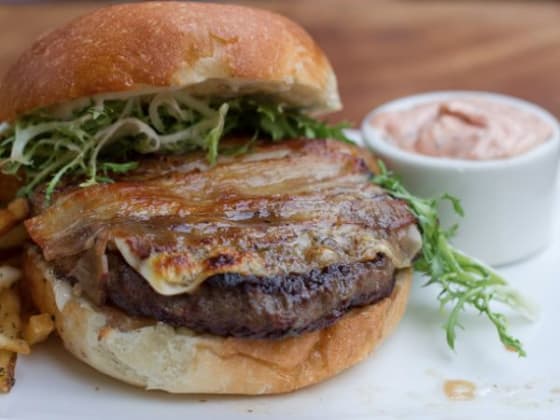 (Ocean Beach) - Dubbed the "foodie event of the year," OB Restaurant Walk 2012 begins tonight at 5pm, showcasing the diverse culinary indulgences across the city until 9pm. For $20, you get to sample the beer and bites that make Ocean Beach San Diego foodie heaven.
With over 40 restaurants participating, a ticket gives you access to taste popular items from some of the best restaurants in OB, with some participants creating special menu items just for the occasion. To accompany the palatable samplings are heavily discounted beers, cocktails, and shots to ensure a full dining experience.
Upon dining at each restaurant, your ticket will be marked off and you can head over to the next spot on the seemingly endless list of choices. To accommodate restaurant goers, Old Town trollies will be running across the city to safely transport attendees from one restaurant to the next.
Some San Diego favorites on the list include: Pizza Port, whose flavorful pizza and rich selection of beers on tap has earned it 4 stars on Yelp, BO-beau Kitchen + Bar and its fusion of Mediterranean, American, and French cuisine, and Raglan Public House, known for its killer burger/beer combo.
While it may seem like this evening of self-indulgence is motivated purely by tastebuds, money raised from ticket sales will be donated to the Ocean Beach Town Council Tree Committee. With the holidays right away the corner, the Tree Committee is dedicated to providing families and seniors in the region warm food and holiday spirit.
Every year, the Tree Committee adopts community members around the holiday time and sponsors a local food and toy drive, providing families with meals for over a week. Last year, the Tree Committee adopted 70 families and 13 seniors with the help of volunteers in the month of December.
With a "nothing leaves the building unless it's wrapped" policy, Claudia Jack, the chair of the event, invites interested volunteers to lend a hand December 17th, 18th, and 20th from 5-8pm to sort food and toys, and then distribute the donated goods on December 22nd, from 9am-noon.
You can find out more about the Ocean Beach Town Council here. If you're interested in getting involved in the OB Food and Toy Drive, you can email Claudia directly, at [email protected].