(Stacey Wescott / Chicago Tribune)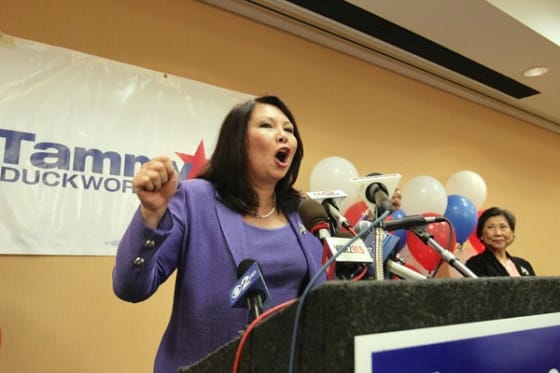 Democrats in Illinois made huge gains in the US House of Representatives last week. Four GOP incumbents were unseated by their Democratic challengers. In addition, two other Democratic candidates -- one already under indictment; the other, still pending -- easily defeated their opposition in what many across the country have called a mockery of the voting process.
In a race held steadily in the national spotlight, Democratic challenger Tammy Duckworth defeated freshman incumbent Joe Walsh in the 8th congressional district. Democrats Brad Schneider and Bill Foster unseated Republican representatives Bob Dold and Judy Biggert, respectively. Also, Democrat Cheri Bustos defeated Republican incumbent Bobby Schilling. Rodney Davis was the only Republican able to win re-election.
In the 2nd congressional district, Jesse Jackson, Jr. easily defeated Republican Brian Woodworth and independent Marcus Lewis without having to campaign. Jackson released one robo-call to his constituents while undergoing treatment for Bipolar disorder at the Mayo clinic.
The diagnosis came to light during an investigation by the House Ethics Committee into Jackson's role in the misappropriation of campaign funds for personal use, as well as his role in the "pay-to-play" scheme hatched by ex-Governor Rod Blagojevich to sell off Barack Obama's Senate seat. Similarly, Representative Derrick Smith was re-elected in the 10th congressional district, despite being currently indicted for bribery.
Nevertheless, Jackson and Smith were expected to win re-election just as Republicans were predicted to maintain their majority in the US House of Representatives. Since Illinois House Speaker Michael Madigan was able to redraw congressional maps in the state last year, the gains by Democrats on Tuesday also passed with little surprise. With Tuesday's victories, Democrats now possess a 71-47 veto-proof majority in the Illinois House. In the Illinois Senate, Democrats have a 40-19 veto-proof majority.
Whether Illinois Democrats can expect similar gains in the future may rely on the tea party's ability to bounce back. After a successful showing in 2010, support for the grassroots movement waned this election season in Illinois and across the country. Representatives Joe Walsh (IL), Bobby Schilling (IL), Alan Keyes (FL), and Todd Akin (MO) were just a few of the many tea party-backed candidates that were defeated on Election Day.