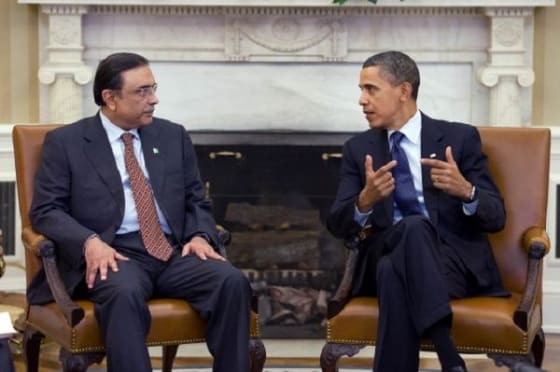 President Asif Ali Zardari of Pakistan has warmly congratulated President Barack Obama on his reelection. President Zardari stated Obama's reelection is a clear reaffirmation by the American people of their confidence in Obama's leadership and a powerful endorsement of his vision for the United States.
A statement issued on Wednesday, November 7, by the Pakistan Ministry of Foreign Affairs stated:
"The President [Zardari] expressed the hope that the relationship between Pakistan and the US would continue to prosper during President Obama's new term in office. He stated that he was confident that the leadership of the two countries would be able to further deepen and broaden bilateral relations on the basis of mutual respect and mutual interests. The President said that he looked forward to working closely with President Obama towards the shared objective of peace, security, stability and prosperity in the region."
President Zardari's hope for continued cooperation between the Pakistani government and the Obama administration points to the shared investments both states have in the success of US-Pakistan relations. Over the years, Pakistan has taken steps to liberalize its trade and investment regimes, and in 2010 the United States invested heavily in Pakistan's oil and gas exploration, power, trade, construction, food, and chemical and petroleum refining.
President Zardari has embraced Obama's second term on behalf of the Pakistani government and its people, although a BBC poll listed Pakistan as one of 21 countries that preferred Mitt Romney.
Pakistani-American relations have been lukewarm, largely due to American use of drones in the country, which has remained a contentious issue between the two countries. During Obama's first term as president, drone warfare in Pakistan has escalated, and there is no indication such policies will be discontinued in his second term.