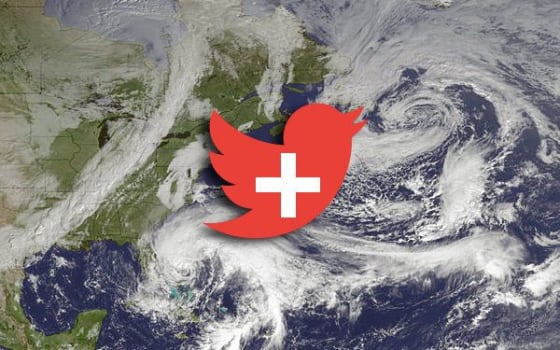 Leaving close to six million residents without power and resulting in at least 85 fatalities, Hurricane Sandy continues to leave millions on the East Coast in dire need of relief. Over 250,000 cars have been destroyed and due to increasing demand and power failures, gas rationing has been in effect for almost a week. In the wake of the natural disaster, Twitter has emerged as a key player in Hurricane Sandy relief efforts, providing victims with information and volunteers with opportunities to help.
Twitter accounts facilitate recovery efforts by spreading information and giving victims a voice. The Twitter account @MCUrgent managed by New Jersey's Morris County digital and social media manager Carol Spencer provided relief to one resident blocked in by a tree. The internet revolutionized relief efforts, with the county's webpage receiving half a million views in the six days after Sandy ravished New Jersey. The Twitter account picked up over 2,000 followers.
The Twitter account @OccupySandy, with over 8,000 followers, is another valuable source of information for volunteer opportunities, information, and updates. The very active Twitter feed provides followers information on how to help, where to donate, and how to get involved from a distance. Some popular hashtags are #sandysaid, #sandy, #RebuildTogether, #sandyvolunteer, #howtohelp, and  #OccupySandyNJ. You can also receive updates from the Twitter account on your phone by texting @occupysandy to 23559. 
Hurricane Sandy, how to help from a distance: 
New York Cares: Text iCARE to 85944 to donate $10. Make sure you reply 'YES' to confirm.
Redcross: Text REDCROSS to 90999 to donate $10.
Salvation Army: Text the word STORM to 80888, and confirm the donation with the word, "Yes." Learn more here.
Hurricane Sandy, how to help in person: 
Volunteer with FEMA: Here are the ways you can help by volunteering with FEMA.
Donating Supplies: Met Council is collecting supplies for victims. Find out where here.
Donate Blood: Due to the conditions on the East Coast, nearly 100 Red Cross blood drives were canceled.
Donate Coats: New York Cares is aiming to collect 50,000 coast for Sandy Victims. You can help here.
Donate Food: You can donate supplied to Feeding America. To find out more, visit their website.