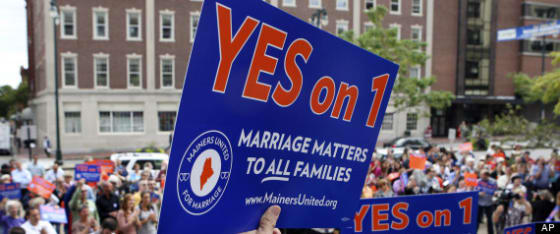 While America voted for president, states across the nation voted on social issues, with voters making same-sex marriage legal in Maryland and Maine. While widely ignored by the presidential candidates, America displayed a broad acceptance for previously rejected social issues in Tuesday's election.
In Maryland, voters passed Question 6, approving the Civil Marriage Protection Act that made it legal for same-sex couples to marry. Prior to this election, proponents of same-sex marriage had been defeated 32 times, highlighting the state's unwillingness to accept the act.
Tonight's victory comes after President Obama's open endorsement of same-sex marriage, marking a milestone in the gay rights movement. Partly due to Obama's endorsement, much of the campaign centered around African American voters in the state:
The campaign over Question 6 in Maryland focused heavily on African American voters, who make up a larger share of the electorate than in any other state outside the Deep South and whom polls showed as more reluctant to accept gay nuptials than white voters.
Exit polls reveal that backers of same-sex marriage in Maryland also supported and voted for President Obama, helping him secure re-election. The win in Maryland could have serious implications nationwide.
"It takes away the talking points that anti-marriage activists use day in and day out: that this issue can't win at the ballot box," said Chad Griffin, president of the Human Rights Coalition. 
Same-sex marriage was also on the ballot in Maine. Voters decided whether or not Maine should issue marriage licenses to same-sex couples. As reported by the AP,
Gay marriage is legal in six states and Washington, D.C., but those laws were either enacted by lawmakers or through court rulings. In popular votes, more than 30 states had previously held elections on same-sex marriage, with all losing.
The Supreme Court will decide later this month whether or not to hear cases regarding same-sex marriage.