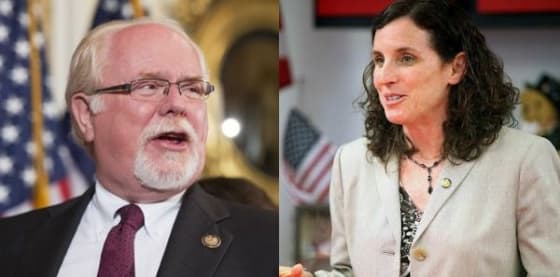 The congressional race between Ron Barber and Martha McSally is too close to call. With all precincts reporting the candidates remain within several hundred votes. IVN will update you when the race is called for either candidate.
Arizona's 2nd Congressional Districts was one of the most prolific races. The district has a slight Republican registration advantage, and about a third of the voters are registered independent or other. The district contains much of the former 8th Congressional district, represented by Democrat incumbent Ron Barber.
Ron Barber's name became nationally known when he won a special election to replace his former boss, Gabby Giffords, just months ago. He directed much of his campaign at Arizona's middle-class:
And since being elected to serve Southern Arizona in Congress, I have worked to keep taxes low for middle class families¸ protect Social Security and Medicare, create jobs, support our military families and bases, make sure our veterans get the services they need, and secure our border.  I'm running for Congress so I can continue that work.  We need someone who will focus on rebuilding Southern Arizona's middle class.
Republican challenger Martha McSally is a retired United Air Force Coronel who has stressed her "independent spirit" and desire to move past divisive politics.
As you have seen on T.V., Ron Barber and his party bosses have been accusing me of waging a war on women. Naturally, you and I both know how absurd that is. I have been fighting for and championing the rights of women across the country, and the world, my entire career. I am humbled at how many opportunities I have been given to break glass ceilings and pave the way for future generations of women.
Watch the News Coverage of the Final Debate: