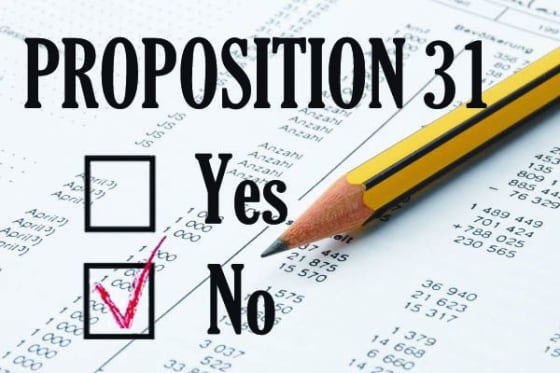 Proposition 31 failed with only 40% of the vote with 76% of precincts reporting.
Should Prop 31 had passed the state would have needed to implement sweeping new provisions, one of the largest overhauls of California's government in recent memory.
Proposition 31 would have:
Established a two year budget cycle
Required that expenditures over $25 million are offset by reductions
Granted the Governor new powers to cut the budget in a fiscal emergency
Implemented accountability measures via performance reviews and goals of governmental programs
Ensured that all bills are published no less than three days before a vote
Required that funding sources for programs or tax cuts be specified before implementation
Created 'Community Strategic Action Plans' and provides $200 million in funding for them
Permitted local municipalities to share property tax revenue
Major funders in favor of Proposition 31 were Nicholas Berggruen and California forward, the largest funders with $1.5 million and $1.2 million respectively according to ballotpedia. Berggruen, the founder of the Nicholas Berggruen Institute and the Think Long Committee for California, is a well-known investor an philanthropist. He often supports organizations that address governance issues. On the opposing side, the Working Families Issues Committee donated roughly $130,000, however the exact number is unknown. the WFIC is a member of the AFL-CIO and represents union members from various professions.
Since the proposition's inception it was trailing in the polls. A September Field Poll clocked initial support for the measure at 40% opposed to 21% in favor. The confusing and expansive nature of Proposition 31 left 39% of voters undecided even after being read the official ballot description. Leading up to election day Proposition 31 trailed 48% to 24% according to the Public Policy Institute of California.
Although Proposition 31 has failed it is likely that future ballot measures will attempt to readdress similar problems like accountability, transparency, and budget gridlock. However, it is unlikely they will do so all in one legislative swing, as prop 31 attempted to do.