Credit: sfexaminer.com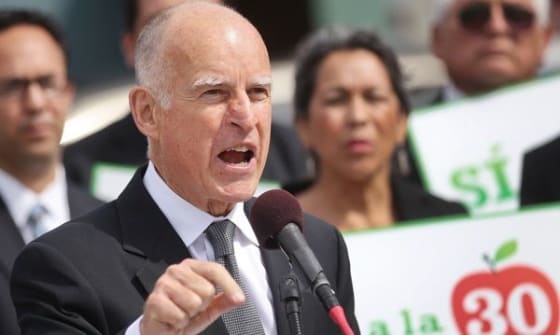 The Prop 30 results are in. California's voters decided to pass Prop 30 with 53 percent approval.
Proposition 30 is Governor Jerry Brown's tax initiative to provide funding for California's education and public safety resources. The ballot measure increases income tax rates for these brackets at the following levels for seven years: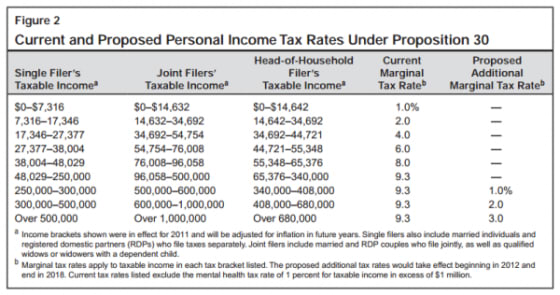 Proposition 30 also increases state sales tax by 0.25-percent for four years beginning on January 1, 2013.
Governor Jerry Brown conducted state-wide tours leading up to Election Day.
The total funding for the "Yes" campaign totalled approximately $60 million. Notable donors were the California Teacher's Association ($8.9 million), California State Council of Service Employees Issues Committee ($7.5 million), and the Democratic State Central Committee ($4.3 million).
The total funding for the "No" campaign was approximately 30 percent higher than the Yes campaign totaling approximately $80 million. Notable donors were Charles T. Munger Jr. ($55 million), Arizona PAC Americans For Responsible Leadership ($11 million), and the Small Business Action PAC ($8.8 million).
Contribution numbers were recorded on October 30.
Projected revenue is slated at approximately $6 billion. Prop 30 will alleviate triggered budget cuts from public schools, community colleges, universities. K-12 education and community colleges will not lose $5.35 billion dollars across California. The University of California and California State University systems will not lose $250 million each.
Local public safety services such as CALFIRE and grants for city police will not lose a total of $49 million in state funding.
Revenues generated by Prop 30 are to be stored for educational purposes in the newly created Education Protection Account, where 89-percent of the funds would go to K-12 schools and 11-percent would go to community colleges.
California's spending reductions will be halted. Citizens will be playing close attention to the state government for appropriate use of Prop 30's revenue.
Prop 30 results throughout the night showed the measure trailing from behind from the start. As the night went on, "Yes" continually grew its lead and held on until the end.