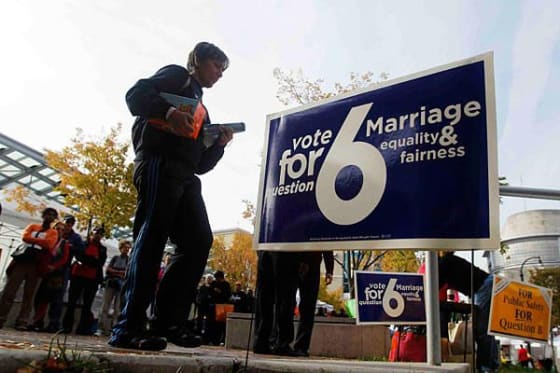 32 states have previously put the right for same-sex couples to receive civil marriages to a popular vote, and 32 times the measures were voted down. Yesterday, however, three states became the first to successfully pass ballot measures to make gay marriage legal: Maryland, Maine, and Washington.
Maryland's proposition passed with close approval, at 52%. The measure's passage is consistent with pre-election polling. The Maryland State legislature approved same-sex marriage in February of 2012, leaving it to be implemented if approved in a voter referendum. The bill will take affect on the first day of 2013.
Maine's measure passed with a more comfortable margin, but remained close with 53% voting "yes" and 46% voting "no." Like Maryland's, the results were consistent with polling which found a slight majority of Mainers in favor of legalizing same-sex marriage. Unlike in Maryland, Maine's initiative did not start as legislation.
Washington's legislation passed with 51% of the vote. Similar to the process in Maryland, Washington's state legislature passed a law to make gay marriage legal only upon popular vote. Unlike in the other two states, polling in Washington indicated a more comfortable support for the measure.
The 2012 elections will be remembered for many things. Outside of the focus on the presidential race, the country appears to have arrived at a turning point in the battle for marriage equality. Putting same-sex legalization measures to a popular vote used to be a surefire strategy for defeating the law. But it appears that the tide is turning.
Editors Note: An additional measure, to define marriage as between a man and a woman, failed in Minnesota. Marriage equality activists see this as a fourth victory for the movement.