Photo: Tom Smart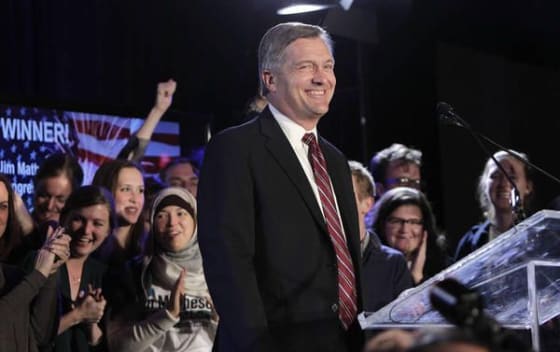 Utah's only incumbent Democrat, Jim Matheson, won the state's 4th Congressional District against Republican opponent, Mia Love, by just over one percent, The Desert News reported. The results were extremely close and it took all night to receive the results.
Matheson declared his candidacy for the newly created 4th District after redistricting split the 2nd District, which he has represented for twelve years. Utah's 4th District, like the 2nd, is largely Republican, but Matheson has been able to gain enough independent votes to remain in Congress by casting himself as a moderate who is not afraid to vote against his party.
Utah is about as red as it gets, but active independent voters rival Republicans nearly 1:1. With roughly half the electorate registered as unaffiliated, Matheson's win was hinged on convincing constituents that his moderate views will best represent their interests in Washington, DC.
On the campaign trail, Matheson toted his conservative Democratic values. Under the banner, "Jim Matheson puts Utah first," he wooed moderate Republicans and independent constituents with his dedication to fight for federal fiscal responsibility and for business-friendly policies to help the private sector grow.
Matheson is a sixth-generation Utahn and promised voters to work for what's right and follow his parents' rule, "Honesty is the only policy in public service."