Chad Walsh (left) and Paul Fong (right)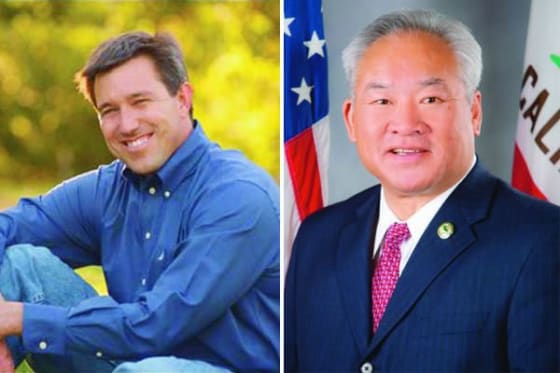 Paul Fong wins with 62 percent of the vote. Chad Walsh collected 38 percent of the vote with 100 percent of precincts reporting.
The race between semi-incumbent Paul Fong (D) and challenger Chad Walsh (I) ended at 1:20 am this morning. Chad Walsh was the only Independent running for the California legislature. Assembly district 28 is located in Santa Clara County, just west of San Jose. In the primary, Fong led 53% to Walsh's 46%.
By the end of October, Fong had raised over $300,000 whereas Walsh had raised around $250,000 with 25% coming out of his own pocket. Fong was redistricted out of the 22nd assembly district and faced many unfamiliar voters this election but maintains a large base of support among unions. He will be termed out in 2014.
Walsh who switched from Republican to no party preference for the race had been accused of holding on to GOP values early in the campaign. However, he was able to secure bipartisan endorsements from elected officials like former Mayor of San Jose, Charles Reed, a Democrat and former Lt. Governor Abel Maldonado, a Republican.
Fong has largely focused on the traditional Democratic values throughout his campaign, touting his long list of endorsements from blue-party officials. Similarly, Fong's campaign strategy has primarily focused on the usual Democratic stand-by, labor. However, he began promoting himself as more pro-business since the race began.
Fong's powerful base of support within the region proved to be too much for the Independent Chad Walsh.