Credit: Gage Skidmore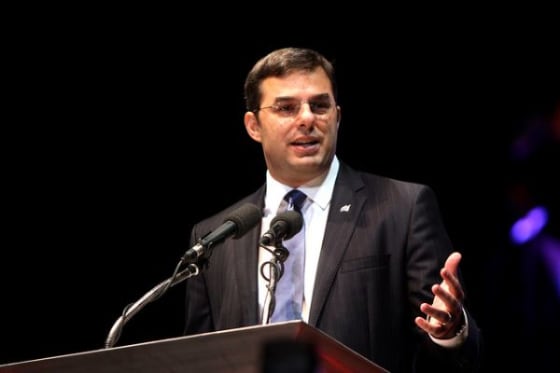 Justin Amash was reelected to the House of Representative with 58% percent of the vote, according to CNN. His main opponent Steve Pestka received 39% of the voting, giving Amash the win by a huge margin.
The 3rd District, a usually safe district for the Republican party, became disputed in this year's election after the recent redistricting included a more liberal neighborhood. Justin Amash, the incumbent has been running on his record of never missing a vote and explaining every vote that he makes in Congress on his Facebook page. Justin Amash, the only Libertarian Republican in Congress, has made balancing the federal budget his top priority and wants to reform social security, medicare, and medicaid. On some subjects like military spending he voted against his party.
Steve Pestka, who won the Democratic nomination, has focused his campaign on the need for a more bi-partisan Congress on his effort to win the votes of moderate voters. He highlighted his opponent's attachment to some principles, Mr. Amash is a hardened Ron Paul follower, that can be detrimental to the interests of the district's constituents.
The third candidate, Bill Gelineau from the Libertarian party, with little chance of winning used his participation to talk to people about the Libertarian party philosophy. He highlighted that he is pretty much in the middle of the political spectrum with a belief in the free-market economics and progressive social views. He also attacked the two candidates on their connections with special interests.
Justin Amash benefited from a strong lead at the beginning of the campaign cycle, the race became tighter as Steve Petska invested more than $1 million in political ads in the last weeks. The race remained tight until the end, and Michigan voters saw a battle of TV ads as both sides fought the battle on air.
Justin Amash, 32, is the current 3rd district representative, elected in 2010. He worked as a business lawyer before being elected in the Michigan House of Representative in 2008.
Steve Pestka, 61, has a diverse background with experiences the private and public sector. After graduating from law school, he became an assistant district attorney before going to private practice. He served three terms as the Kent County Commissioner before being elected in the Michigan House of  Representative in 1998 for two terms. He was then appointed Circuit Judge from 2003 to 2009 before leaving the bench to help his father with the family business.
Bill Gelineau, 53, is the owner of a restaurant as well as real estate title agent. He has unsucesfully been the Libertarian party candidate during a number of elections.