In the final stretch in the race for the White House, presidential candidates are doing all they can to get out the vote and encourage their supporters to cast a ballot this Tuesday. From campaign stops across the country, to interviews, to mailers, to tv ads, candidates are working hard to mobilize supporters and energize the undecided voters. While Hurricane Sandy may have halted some of the work on the ground, the candidates remain hard at work getting out the vote on their social media channels.
Gary Johnson, for example, uses Google+ to create and share events with his one million plus followers on the network. Young voters are an essential part of his campaign, as made evident by his college campus tour. Governor Johnson has not hesitated to reach out to young voters on social media, especially on the platform Reddit, participating in not one, but two Reddit AMAs or ask me anything interviews, this election. Gary Johnson allowed users to submit questions about his campaign on the network where "Reddit users asked some hard-hitting questions and follow-ups."
President Obama has also reached out to the youth vote on social media. In the final days before the election, Obama's campaign heavily focused on encouraging early voting, and rightfully so. In 2008, Obama enjoyed a comfortable lead among early voters, who were more likely to say they voted for Barack Obama than John McCain by a 55% to 40% margin. His success in mobilizing voters long before the November 4th election was critical to his 2008 victory, which is why the president pushed supporters to get out the vote and cast a ballot early.
Voting early himself, President Obama told voters on Twitter and YouTube, "If the President can make time to vote early, you should too."
https://twitter.com/BarackObama/status/264126093240438784
Known for his social media prowess, Obama has also used image-based social networks to spread his "Get Out the Vote" campaign. On Tumblr, he posted this video, in which he said, "I'm honored to be the first sitting president who has ever early voted." He continued, "All across the country, you have the option to early vote too."
In true Tumblr fashion, Obama's team made a GIF for early voting.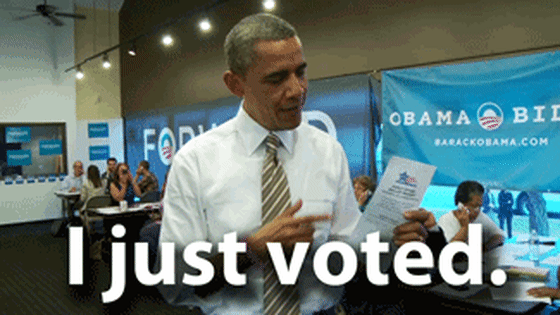 While GIFs are all around the internet, especially on the micro-blogging site Tumblr, President Obama's social media team has incorporated the animations into their campaign strategy. Populating Obama's Tumblr page with GIFs of him shooting hoops, and crowds chanting his name, he has earned the title of "Commander-in-GIF."
Barack Obama, however, is not the only presidential candidate turning to Tumblr to help get out the vote. Republican candidate, Mitt Romney, posts images and videos on his Tumblr page from the campaign trail and volunteer offices around the country to encourage people to vote on Tuesday.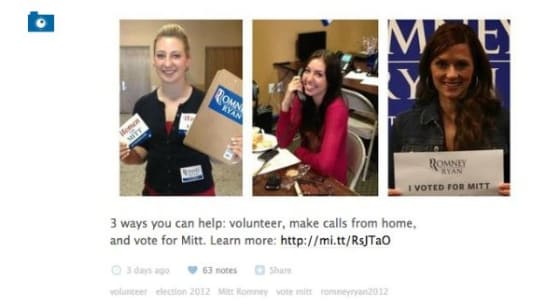 Vice presidential candidate, Paul Ryan, relies on Facebook for his get out the vote campaign. With 5,171,200 likes, his Facebook page has a wealth of campaign messages and images successfully being shared across the platform. Opponent Joe Biden trails far behind, with just under half a million likes.
So who's winning the get out the vote campaign on social media?
When it comes to ingenuity, the winner is Gary Johnson. With only a fraction of the resources available to his opponents, he has managed to reach over one million people on Google+ and uses the platform to reach out to his supporters on a daily basis.
When it comes to vice presidential efforts, the winner is Paul Ryan. He has created a following at least ten times as large as his opponents and has almost one million people "talking about" his Facebook Page on the network.
When it comes to innovation and creativity, the winner is Barack Obama. His campaign strategy focuses heavily on appealing to the online community of voters, whose appreciation for memes, GIFs, and all things Reddit reflect in Obama's large following. Whether or not that will win him re-election, however, is still unclear.