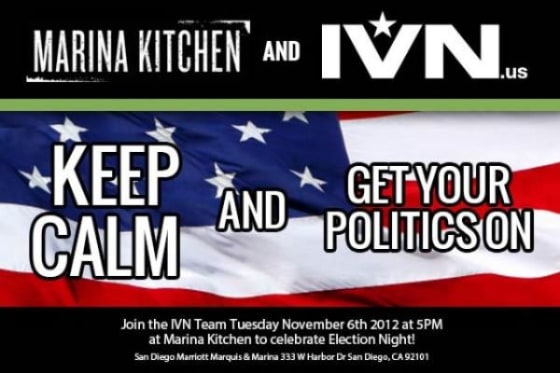 The staff at IVN will be hosting their election night party on Tuesday, November 6 at the Marina Kitchen of the Marriott hotel in downtown San Diego.  The event will begin at 5pm, and all are invited to come celebrate. No matter who is elected, this is a time when all San Diegans can become politicos for a day, or at least an evening.
Whether it involves the national election, a state assembly district, or the next mayor of this fine city, IVN will be live, covering the races minute by minute.
The Marina Kitchen will provide a fitting backdrop for an event of this kind, but the month of November is not strictly politically driven. As Thanksgiving draws near, many people do not have the time to prepare a meal of such epic proportions.
Not only will the Marina Kitchen host the IVN Election Night Party, but they will also host a Thanksgiving meal, November 22 from 2pm-9pm. Executive Chef Aron Schwartz has created a nostalgic three-course menu inspired by American holiday favorites that include classic and traditional Thanksgiving dishes.
"We believe in community at Marina Kitchen and our culinary approach to comfort food classics lets us help you celebrate a day where dining with the ones you love is of utmost importance," said Steve Pagano, Hotel Manager for the San Diego Marriott Marquis & Marina. "We hope to make our guests feel right at home for the holidays, with an amazing menu and wonderful atmosphere."
The IVN staff is awaiting the election results with great anticipation, and promises to continue providing fair and balanced nonpartisan journalism up to, as well as after the elections.  Regardless of who is elected to public office, the effects will resonate throughout the entire country. IVN hopes to see you on election night at the Marina Kitchen.