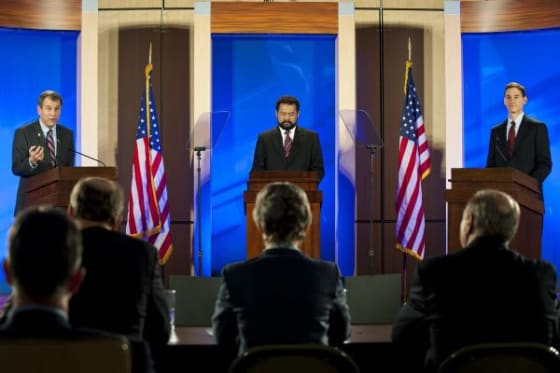 While a majority of the pubic eye is stationed on Ohio's presidential poll numbers, the Ohio Senate race could have serious implications for the country as well.
The race between incumbent Democratic Sen. Sherrod Brown and Ohio State Treasurer Josh Mandel is officially the fifth most expensive this election cycle. The candidates have raised more than $30 million total and the outcome of the race may very well determine which party holds the majority of the Senate come Election Day.
As of now, the 100-member Senate is Democratically controlled by 4 seats. Republicans need to weaken Brown, and a few other democratic incumbents, in order to regain control.
Brown is currently in the lead 51 percent to 47 percent, with a 3.1 percent margin of error, according to a Plain Dealer/Ohio Newspaper Poll released last week. The poll also reports independent voters prefer Brown by a 16-point margin.
Conservative super PACs and other third-party contributors have spent more than $19 million since last year in an effort to prevent incumbent Sen. Sherrod Brown from being reelected to a second term.
Crossroads Grassroots Policy Strategies 9, which is co-founded by Karl Rove, Deputy Chief of Staff during the George W. Bush administration, and the U.S Chamber of Commerce spent a total of $8.9 million in attack ads aimed at Brown in order to strengthen Mandel, and by extension, former Gov. Mitt Romney.
Brown has been hit harder by conservatives than anyone else in congress.
Brown is, however, receiving his fair share of cash flow. The Democratic Senatorial Campaign Committee and Majority PAC have spent a combined $6.5 million on ads promoting Brown and attacking Mandel.
Issues such as President Obama's Affordable Care Act and the auto bailout are among the most targeted issues in the ads, considering Ohio's economy is extremely reliant on manufacturing jobs.
The $1 million campaign launched by the US Chamber of Commerce accuses Brown of throwing Ohioans under the bus by voting in favor of President Obama's Affordable Care Act.
"While Ohioans opposed Obamacare, Brown voted for it, even though it will kill American jobs."
According to a Washington Post Poll in September, 48 percent of registered Ohio voters said they hold unfavorable opinions of the president's Affordable Care Act. However, 64 percent of Ohio registered voters said the auto-bailout was generally good for Ohio's economy.
American Bridge 21st Century, a liberal PAC, released an ad claiming that Mandel has missed 85.4 percent of board meetings required of a State Treasurer while he was raising money and campaigning.
PolitiFact rated that claim as half-true, reporting there is no evidence that Mandel neglected his position while campaigning. Mandel sent representatives to sit in on many of the meetings he missed.
"[Brown's] campaign cited meetings of the Board of Deposit, on which Mandel sits, including at least one case where Mandel was fundraising in Washington on the day of a meeting. It also cited at least 44 out-of-state political events from March 2011 to July 2012 from Mandel's schedule -- slightly less than three per month -- and more than 200 out-of-office events, of which at least 64 were fundraisers."
Mandel recently said he would not have backed the bailout, calling it "unamerican" and claiming it cost too many nonunion employees their pensions.
In the most recent NBC News / Wall Street Journal poll, the president holds a 6-point lead over Gov. Romney in Ohio.
With only two days until Election Day, Republicans are on the defense and need to make the coming days count.