Bill Quirk (left) and Jennifer Ong (right) Photo credit:ebcitizen.com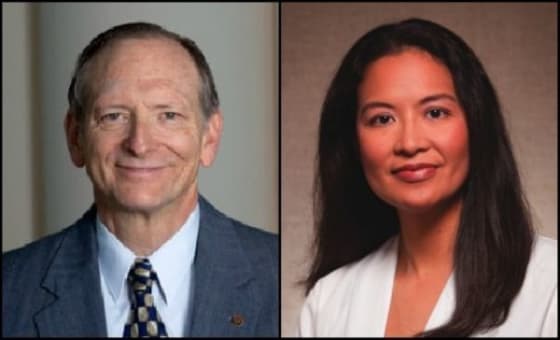 Dr. Jennifer Ong (D) and Bill Quirk (D) are running for California Assembly District 20. Jennifer Ong is an optometrist and a newcomer to the California political scene. Ong would also be the first Filipina to serve in the state assembly if elected. Candidate Bill Quirk is a retired scientist who has served two terms on the Hayward City Council.
This race has recently taken a negative turn, as mailers were delivered around the district courtesy by Californians Allied for Patient Protection (CAPP) in support of Ong, stating: "Should the air we breathe be for sale?" then on the other side, "Career Politician Bill Quirk thinks so." Although not a direct move on behalf of Ong's campaign, it still constitutes an example of negative press.
The mailers Ong and Quirk have both been sending out mailers attacking full of personal attacks. Ong claims that Quirk has received more PAC money than herself, and should be ashamed at an attempt to reverse the truth. Ong also recently ran an ad saying: "Bill Quirk promises to change Proposition 13 in a way that will hurt small businesses, Bill Quirk promises to vote for every tax increase, Bill Quirk promises to raise revenues every chance he gets." Quirk states he is for Proposition 30.
Why is there a need to send out negative mailers, when it is just as plausible to send out a mailer that is positive. Americans dislike how ugly negative campaigns have become with the use of negative ads, especially certain types of them. Most negative advertising is considered too personal - shedding negative light on family members. Sadly, negative information is often more memorable than positive information. If one doesn't like seeing negative ads and feel they contribute to the political mess, why are they increasingly dominating for candidates strategies?