Brian Bilbray (third from left) Photo credit: Bilbray.house.gov
The race to win the redrawn 52nd Congressional District in California is on the national radar, with incumbent Congressman Brian Bilbray facing off against former San Diego City Council member Scott Peters.
Both national parties have spent millions of dollars filling San Diego airwaves with negative attack ads against both candidates.
If everything we hear on TV is true, then Bilbray has taken campaign contributions from special interest groups he lobbied for. And, he protects the tax subsidies of Big Oil. As a congressman, Bilbray voted with former President Bush 93 percent of the time. There's not much of a public or political bloc left that would consider that a positive for a candidate running in 2012.
From the other side of the fence, the GOP says Peters wants to cut Medicaid benefits. And they've labeled him a "negligent" former San Diego city councilman who nearly led the city into bankruptcy.
It's the campaign strategy of Twist and Shout. If ever a race screamed out for a third-party candidate, it's this one.
Scott Peters (left) Photo credit: scottpeters.com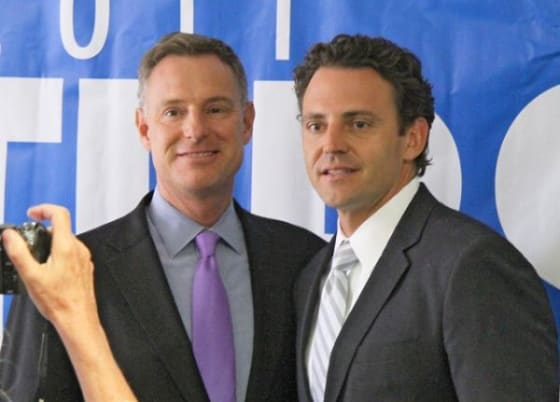 Bilbray would seem to represent thirty-six years of broken politics. But hang on. Zeroing in on one chapter of Peters' career does seem to reveal a series of events that, at the time, appeared to be a political Achilles heel.
In 2002, Peters voted with the majority of the San Diego city council to underfund the city's pension system. This was after a Blue Ribbon Committee on City Finances warned of the risk. Instead, the council voted to do away with the fund's safety net.
Soon afterward, national newspapers were calling San Diego "Enron-by-the-Sea." Today, the after effects linger, and the city is still roughly $2 billion in pension arrears.
Then-mayor Dick Murphy, council members Peters, Toni Atkins, Jim Madaffer and Brian Maienschein were part of a fraud investigation by the Security Exchange Commission. All were eventually labeled "negligent" in the probe.
The collective cost of defending the politicians against the SEC charges was $2.7 million, including $600,000 for Peters.
Walking away from an SEC probe with a label of negligent did not seem to be a feather in the cap that any politician would want to ride forward under. Indeed, Peters ran and lost in 2008 to Mike Aguirre in a quest to be San Diego's city attorney.
Peters was then appointed to the San Diego Port Commission. Recent news reports suggest he proposed negative amortization/under-funding plans to the Port, but the idea was rebuffed.
Former council member Atkins has managed to salvage a political career. She's represents San Diego's 76th District in the California State Assembly. But if you take a short trip in the Way-Back Machine to the mid-2000s, it's hard to imagine any of the local public servants who were handed out "negligent" buttons would ever take another step up the political ladder.