Credit: Suntimes.com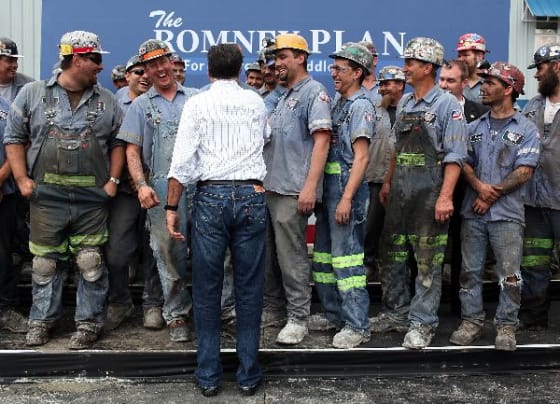 Jobs may decide Ohio and the 2012 Presidential Election. Obama has benefited from support of the auto bailout in a state where one in eight jobs are tied to the auto industry. However, Obama faces opposition in Ohio's coal mining region, where Romney supporters claim the Obama administration's environment and energy policies have and will continue to cost jobs.
The Importance of Winning Ohio
Ohio has been carried by the winner of the last 10 presidential elections. No Republican has ever won without Ohio. The last president to win without Ohio was John F. Kennedy in 1960. Both campaigns area aggressively attempting to win Ohio by last minute campaigning. In West Chester, OH, Friday night, the Romney-Ryan campaign is kicking off its final four day push leading to election day called "The Romney-Ryan Recovery Road Rally". Obama will spend Friday through Sunday campaigning in Ohio.
Jobs May Decide Ohio And The 2012 Presidential Election
The United Auto Workers Union (UAW) has advantageously endorsed Obama. According to JobsOhio, a non-profit organization formed by Republican Governor John Kasich to attract business development, the auto industry accounts for 79,572 jobs and Ohio is the 3rd highest state in automobile production. However, opinions that Obama did not save the auto industry might explain why Ohio is still close.
Working against Romney is his 2008 New York Times Op-Ed objecting to an auto industry bailout in favor of bankruptcy. However, Romney recently attacked Obama on auto industry jobs. This ad claims that Obama's poor leadership will force Chrysler to move Jeep production to China. Chrysler immediately responded calling the ad misleading. The recent attacks of Obama on auto industry issues, an Obama strength, indicates Romney is aware that jobs may decide Ohio and the 2012 Presidential Election. US Department of Labor statistics reveal that between February 2000 and June 2009, the auto industry lost 910,000 jobs. However, over 239,000 jobs have been created since.
The War on Coal
Romney supporters allege a 'War on Coal' by Obama's administration's policies proves Obama is anti-coal. Speaker Boehner claims 1,200 coal mining jobs have been lost. During the first debate, Romney took the offensive claiming Obama's policies were costing mining jobs.
However, Romney is not fully supported in Ohio's coal country. The United Mine Workers of America (UMWA) has not endorsed a presidential candidate. Also, an August incident caused controversy when miners alleged they were forced to attend a Romney 'Coal Country' rally without pay. A later Romney ad featuring video of the rally caused a heated response from AFL-CIO President, and 3rd generation coal miner, Richard Trumka.
Ohio Is Doing Better Than Most States
Conditions in Ohio are better, which takes the sting from Romney's rhetorical question, "Do you want four more years of this?" For September 2012, Ohio's unemployment rate was 7%, down from 8.6% a year ago. Comparatively, Ohio is doing better than the overall US unemployment rate of 7.8% (which is also down from 8.1% a year ago). Since jobs may decide Ohio and the 2012 Presidential Election, it is still a close race. However, recent polling favors Obama.