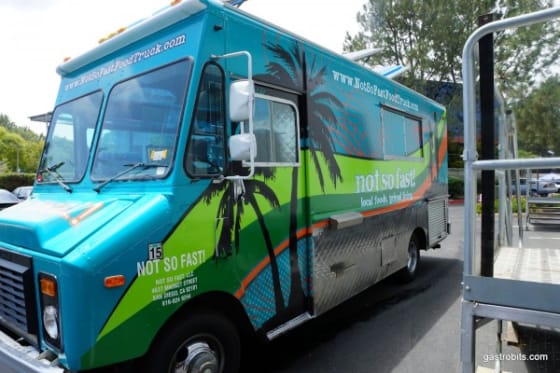 Food Trucks are blowing up in San Diego.  What is the appeal with a food truck and why are they becoming all the rave?  Food Trucks enable people to open up a "mini" restaurant that is a much lower cost than opening up an actual restaurant and have been around since the American civil war.
San Diego offers 68 different choices, so how does one decide on where to eat?  From Asian cuisine to Burgers, food trucks provide San Diegans with a variety of options. Here are some of our favorite picks in San Diego!
John Adams, the owner of Epic Eatz opened up shop in January 2012 to serve the San Diego community "Surf Cuisine," and is serving up delicious dishes including fish tacos, local Halibut ceviche, Hawaiian ahi poki and carnitas. Their team loves creating new dishes by using local ingredients. One of their most popular items is the Spicy Wahoo and Crab Torta that has fresh crab meat with tempura wahoo, tomatoes, cabbage, lime crema and is served on a telera roll.
Amanda Caniglia decided that San Diego needed Swiss style hot dogs. Amanda and her husband Nico started their food truck December 2010 when they made their debut at December Nights in Balboa park. A Swiener  is a baquette with melted  cheese on the inside with the sausage. With 7 choices of sausages to choose from and fresh bread, how can one go wrong. Most popular item is a tie between the Spice Pork with dijon and melted swiss cheese or the Chicken Apple with caramelized onion sauce and melted raclette cheese and paprika.
Opened up its doors starting November 2011 and is currently the only Thai food truck in the San Diego Area and they are serving up a fresh, casual twist on traditional Thai food with a little bit of spice. Thai 1 is a family run business that has a great creative spirit that knows no limits. Their most popular dish is their Chicken Satay which consists of chicken that is marinated for 48 hours in cilantro and coconut milk served up with warm peanut sauce.
With so many options in San Diego, you are sure to find your favorite food truck! Check out the list of food trucks in San Diego at www.sdfoodtrucks.com, they offer a calendar of where all the food trucks are located every day.
//