Don't be surprised by the unisex potty at Hotel Palomar.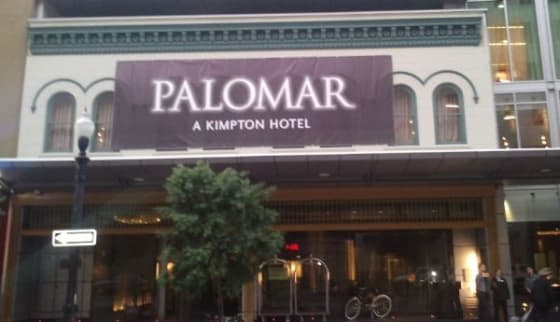 A recent guest who had to use the restroom on the second floor of downtown San Diego's Hotel Palomar, came out of the facility shaking his head.
"I guess I didn't know San Diego was this hip," he said, seemingly mildly amused.
Turns out the bathroom is a unisex potty.
It's a trend more widely spotted in Los Angeles or Las Vegas. At the Hotel Palomar, which is part of the San Francisco-based chain of Kimpton boutique hotels, the sign outside the bathroom simply reads "His & Hers."
It's a major architectural feat, first installed when the property was privately built as the one-off Se Hotel. The walls, ceiling and floor of the washroom are covered in rolled granite and inlaid with Lucite.
Gentlemen and ladies share a waterfall sink in the middle of the room.
The bathroom is certainly a conversation piece – even if the conversation starts with, "Where are the stalls?" Turns out the stall doors are flush (if you will) with the granite walls, and not the easiest to discern.
And when you do find your way into some personal space, don't look for a light switch. The lone source of interior illumination is a single bulb that shines up from the floor.
The facility serves both the hotel's Saltbox restaurant and Summersalt Rooftop Bar & Lounge.
Gals and guys who might ordinarily head to the restroom to speak in gender-specific tones would be well advised to save those conversations for another place.