Credit: Kfoxtv.com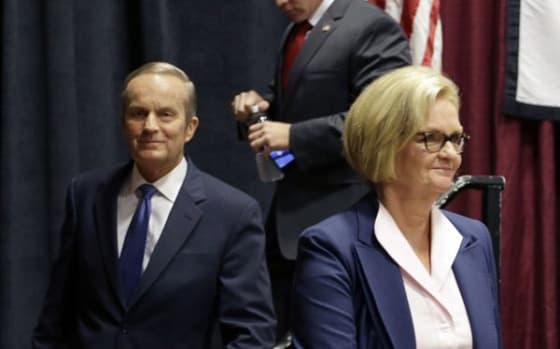 Election day is right around the corner. Campaigns across the country are coming down to the wire. Both Democrats and Republicans are keeping a close eye on the U.S. Senate race in Missouri. Weeks after Republican challenger, Rep. Todd Akin, made controversial comments about "legitimate rape," he is now in a statistical dead heat with incumbent Democratic Sen. Claire McCaskill in the MO senate race.
According to the latest survey of likely voters by Mason-Dixon Polling & Research, conducted Tuesday through Thursday, McCaskill leads Akin 45 to 43 percent. That's within the 4-point margin of error. 8 percent of voters polled say they are undecided.  The same poll shows McCaskill with a small lead among female voters. Akin has a slight advantage with male voters.  In August, Akin said women could prevent pregnancy in cases of "legitimate rape." Before making these comments, Akin had been leading McCaskill.
Since August, most polls have shown a McCaskill with a significant lead in the race. Her campaign says internal polls still show the senator with lead of 53 percent to 39 percent. The Akin campaign has released a statement citing the poll, calling the race "a statistical dead heat."  This is one of the races which could determine the makeup of the next Senate.
According to Politico.com, Larry Sabato of the University of Virgina predicts the Senate will still be in the hands of the Democrats after Tuesday. Republicans need a net gain of four seats to take the majority away from the Democrats. Sabato predicts a win for McCaskill.
But Akin is not ready to end his fight. In a last minute push before Tuesday's election, Akin and the Missouri Republican Party are spending $700,000 in television ads. A conservative PAC, Now or Never, tells CBS News it is spending $800,000 to support Akin. The group previously supported one of Akin's primary challengers.
House Speaker Newt Gingrich is out on the campaign trail for Akin this week. Tonight Akin is in Saint Louis, holding a rally with campaign volunteers. McCaskill took several days off the campaign trail after the death of her mother. She returned to the campaign trail today. She talked about the role of public education during an event at her former elementary school in Lebanon, Missouri.
This election could also hinge on what happens with the top of the ticket.  The poll has Republican Mitt Romney with a large lead over President Barak Obama in Missouri.
The poll found voters favored Romney 54 to 41 percent.