Credit: Gage Skidmore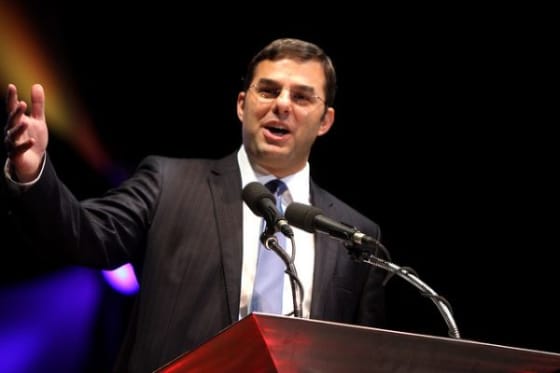 Republican Justin Amash has taken the Michigan contest for the newly redrawn 3rd Congressional District to the airwaves, as his opponent, Democrat Steve Pestka, gained ground.
Justin Amash was elected in 2010 as one of the youngest members of Congress, at age 30. His libertarian leanings also made him one of the rare Republicans to endorse Ron Paul in his 2012 bid for the Republican presidential nomination.
Amash won his district with 59.7% of the votes in the last election, but the district was redrawn in 2010 and is now less favorable to Republican candidates, making this election a very tight race.
Justin Amash has a major advantage on the social media front. The 32 year old made himself known for his transparency on Facebook, reporting each vote he made in Congress.  He amassed a solid following of 35,000 on Facebook and 11,000 on Twitter. Opponent Steve Pestka, on the other hand, has waged a more classic political campaign. The 62 year old has been less savvy on social media outlets, with only 7,000 Facebook fans and 259 Twitter followers.
Recent polls show that TV remains an absolutely essential media outlet for candidates, even in the internet golden age. The latest polls show the two candidates in a dead heat, with Steve Pestka barely leading at 34.9 percent, compared to Amash's 33.8 percent and, 28.5 percent of voters undecided. This poll has been contested by Amash, who claims to have a 14 point lead according to a poll commended by his campaign.
Steve Petska has recently injected $1 million into his campaign, allowing him to flood West Michigan air waves with campaign ads. This has led to a surge in support for Petska. His campaign spent $410,860 giving him 977 spots on local stations.
In comparison Justin Amash only began advertising on TV last week and spent $58,250 for 93 spots.
Justin Amash is currently concentrating his energy on getting an advantage on the air. His campaign website is asking for his supporters to buy him TV ads, with the objective of raising $100,000 before election day. He also has more cash on hand than his opponent, which could give him an edge in the last days of campaigning.
This race is an example of how politicians are having to adapt to an eligible voter base that now spans millennials and retirees; one must be strong on social media, yet remain deeply rooted in television and traditional forms of media.