Photo Credit: boston.com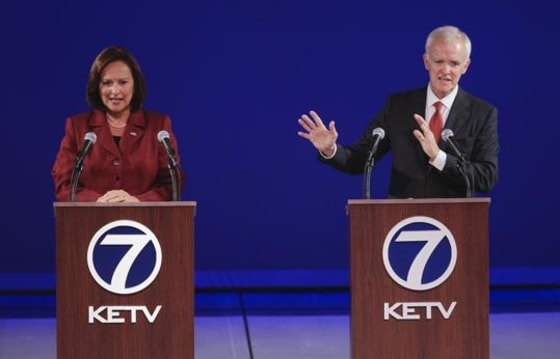 With the election less than a week away, Democrat Bob Kerrey gains on Deb Fischer in the race for Nebraska's open Senate seat. Nebraska, previously categorized as "strong Republican," has now been described as a "lean Republican" race, indicating a recent shift in the political attitude there.
The most recent polling from Omaha World-Herald places Democrat Bob Kerrey "within striking distance" of Republican Deb Fischer. Trailing by only three percentage points, Kerrey is polling at 45% as of October 28th.
Recognizing this danger, the conservative super PAC American Crossroads, has spent $420,000 on an ad buy expected to air Wednesday. "The ads start running Wednesday and appear to be the first money from big, major national outside groups in the race, which suggests they see the race becoming a potential liability," the Washington Post notes.
Nebraska is not an exception. The uncertainty of the Nebraska Senate race is just one example of the competitive nature surrounding Senate races this election. In what was once looking like a possibility, the GOP's hope to take over the Senate seems to be fading quickly.
In an attempt to block a Democratic majority in the Senate, the conservative super PAC's affiliate, Crossroad's GPS has spent over five million on ads to air in Nevada, North Dakota, Ohio, and Virginia.
According to Matt Canter of the Democratic Senatorial Campaign Committee, "Republicans are spending millions of dollars playing defense in five of the 10 Republican-held seats on the map," Canter said. "Pundits didn't predict that."
The key number in this race, however, is seven. Of the registered voters surveyed, 7% remain undecided. In line with the national trend, voters in Nebraska have been leaving their parties in droves, opting for a nonpartisan affiliation.
Down since 2008, there are currently 373,300 registered Democrats in Nebraska and 557,000 registered Republicans. With active growth since the 2008 presidential election, nonpartisan voters make up "nearly 227,000, two thirds of the number of Democrats and about half of the number of Republicans." Bob Kerrey's recent surge may be attributed to this increase in independent voters.
"Nebraskans are independent and cross party lines despite the deep red our state is often portrayed as," says Jane Fleming Kleeb of Bold Nebraska. "You can look to the opposition to the Transcanada Keystone pipeline or allocating an electoral vote to Obama last time or the fact that we passed a state-based version of the Dream Act."
Like in many other races across the country, independent-minded voters will be the deciding vote, which may account for the significant funds funneling into the state of Nebraska from the GOP.
For more on the candidates, check out their Twitter feeds below: