The San Diego Convention Center will host Comic-Con this coming July. Photo credit:dac.com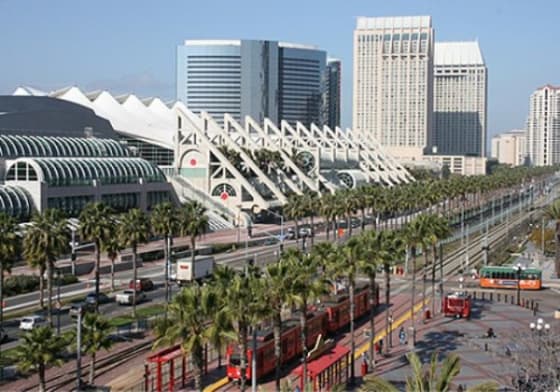 Mayor Jerry Sanders announced today that Comic-Con International would be extending its contract with the City of San Diego.  The original contract was set to expire in 2015, but the representatives at Comic-Con look to host the event in the city until 2016.
Mayor Sanders said that the festival, held at the San Diego Convention Center, draws around 130,000 visitors each year.  The event boosts the local economy to the tune of more than $180 million.  This is a big deal for the city as a whole, being that that is obviously a great deal of revenue.  There was some concern, on behalf of the city, that the Comic-Con crowd would soon far exceed the capacity of the San Diego Convention Center.  This being the case, it was a possibility that the organizers of the event look to larger venues in Los Angeles to support the event.
Comic-Con representatives and city officials extended the agreement in a decision to create a "Comic-Con campus," expanding the event around the city as to accommodate the growing attendance.
The event, for those who may not know, was birthed in San Diego in 1970, and has continued to return to the city over the past four decades.  Comic-Con is a popular-culture convention celebrating all things science-fiction, video game, comic artist, and, of course, Stark Trek and Star Wars related.  This past Comic-Con was held at the San Diego Convention Center from July 12-15, and was widely publicized, well-attended, and pushed some serious capital into the city's economy.
According to comic-con.org, the 2013 Comic-Con International:San Diego will be held on July 18-21.  So far, the event will take place in eighteen different rooms of the Convention Center, which range from 280 seats per room, to the massive, 6,500 seat Hall H.  As a result of expansion, the upcoming Comic-Con will further utilize satellite areas, such as hotels and other local businesses.
Although seemingly a year extension to a contract, the Comic-Con festival is an event that generates a lot of money for the city.  Had the agreement to expand the event not been made, the extension may have not been a possibility.