Credit: Starlite San Diego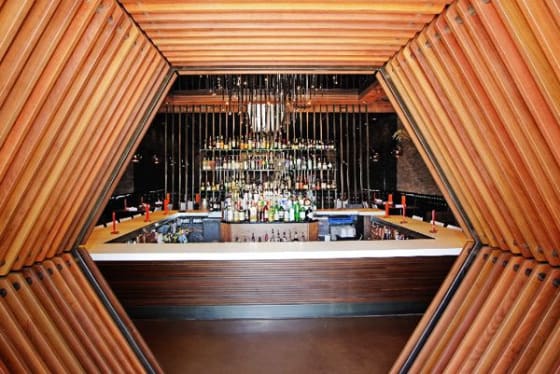 There are only a handful of restaurants and lounges around San Diego that can be recommended to anyone and you know they will enjoy it. Starlite San Diego on India Street is slightly off the beaten path outside Little Italy, but it's worth the venture.
When you walk up to the building you'll be greeted with a cinderblock building with dark wooden accents, surrounded by several cacti in rock and metal planters. The building and interior design was created by San Diego's own Bells & Whistles including a beautiful hexagonal entryway and modern steel tube chandelier hanging over the sunken bar. The chandelier sets the feel for the interior bar as the light reflects off a mirrored ceiling.
Patrons are seated in black leather booths around the bar highlighted by stone walls, natural walnut paneling, cork tiles, and palm decor. The quiet, dim room is perfect for a date night, business meeting, or a drink.
Step through the interior bar, up a cement staircase and into a sprawling patio with retractable canvass roof. You'll feel like you stepped into a retro desert celebrity oasis, reminiscent of 1970s Palm Springs.
Take a seat at one of the outside tables and enjoy a dish from the ever-changing "slow food" menu reflecting local, natural, fresh, and sustainable ingredients. Starlite capitalizes on the year-round seasonal produce available in San Diego, crafted by Executive Chef Kathleen Wise
If you're dropping in for a drink enjoy a Kentucky Colonel, made with Buffalo Trace bourbon, ginger beer, lemon, and house made cherry vanilla bitters served in a signature copper mug.
During happy hour enjoy their traditionally baked mac & cheese. Happy hour takes place every day of the week from 5-7pm with a 4pm cocktail hour on Fridays. Sunday and Monday include $6 Starlite mules and $15 off any bottle of wine.
Next time you're looking for a new lounge or restaurant in San Diego, Starlite is your best bet and you're sure to recommend it to all your friends soon.
Starlite San Diego 3175 India Street
San Diego, CA 92103
Dinner from 5pm to midnight
Sunday brunch from 10:30 – 2pm