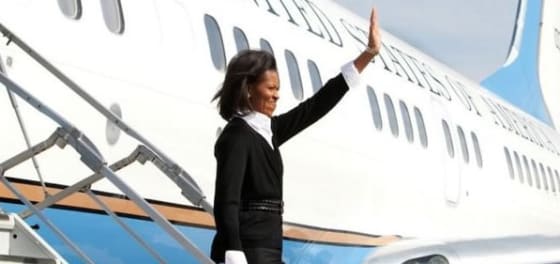 LA JOLLA - With eleven days remaining before the presidential election, First Lady Michelle Obama visited San Diego this morning to raise last minute campaign funds for the President's reelection bid. Obama was the guest of honor at a fundraising breakfast at the La Jolla home of Irwin and Joan Jacobs. The private event attracted around 200 people, including a number of local politicians and business leaders. The minimum donation for attendees was $1,000.
Obama addressed the group for thirty minutes, and admitted to being caught in the whirlwind that accompanies the end of a campaign push. She urged supporters to volunteer their time as well as money, and in particular, to assist with a get out the vote campaign in Nevada.
Obama reinforced key themes of the President's reelection campaign including women's rights, jobs for the middle class, and education. She also managed a few swipes at Mitt Romney, like "cutting Sesame Street is no way to balance our budget."
The event attracted protests from a few pro-Romney supporters, including a fly-by sign that accused President Obama of being a dictator. San Diego police were in attendance to assist with security, traffic flow and protesters.
The First Lady's visit to San Diego is part of a final West Coast campaign tour. Yesterday she attended a fundraiser at the Los Angeles home of actors Will and Jada Pinkett Smith, and immediately after the visit in San Diego, Obama jetted to Las Vegas to attend a rally at Orr Middle School.