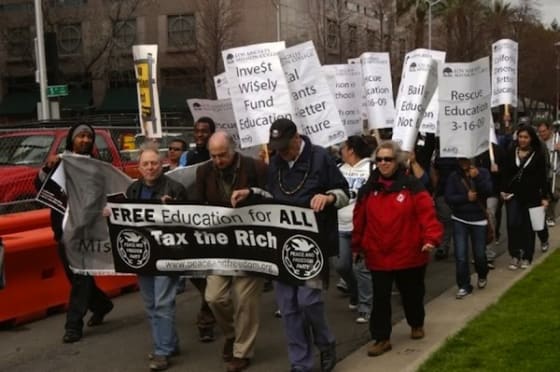 Californians will have the chance to cast their ballot for three Peace and Freedom Party (PFP) candidates this November. "California's Feminist Socialist Political Party," offer this as their platform:
"We represent the working class, those without capital in a capitalist society. We organize toward a world where cooperation replaces competition, a world where all people are fed, clothed and housed; where all women and men have equal status; where all individuals may freely endeavor to fulfill their own talents and desires; a world of freedom and peace where every community retains its cultural integrity and lives with all others in harmony."
The PFP of California was founded in 1967. Since it's inception, the party has averaged approximately two percent of the vote. The PFP has recently received some national attention for its 2012 presidential nominee, Rosanne Barr. Part of Barr's presidential platform is to overturn California's Proposition 14, the Top Two Primaries Act. Barr's pick for vice president, Cindy Sheehan, sent this statement when questioned about the effects of the "Top Two" system:
"I think the Top Two Primary law in California is essentially an anti-democratic law that was written to ensure that only the candidates with the biggest campaign chest (probably will always be the Democratic or Republican) will go on to the general election. The law made it even harder for 3rd or Independents (unaffiliated) to get on the primary ballots, so the poorer campaigns have to spend a lot of limited time and resources on ballot access, then have little for the primary challenge. Also, now, the Peace and Freedom Party is being required to almost double our registration by 43,000 more voters by 2014, or we will lose our ballot status in California. I think its a law that needs to be overturned."
The PFP fears this may be the last time that Californians are able to vote for a congressional or state representative from their party. Prior to the passage of California's Proposition 14, a party qualified for the general election as long as they received two percent of the vote. In 2012, however, the November ballot is limited to the two candidates that receive the greatest number of votes in the primary.
PFP representatives Mary McIlroy, Lee Chauser, and Eugene Ruyle finished in the top two as write-in candidates. With the exception of McIlroy, the candidates strategically ran in districts in which the incumbent was unopposed. This allowed them to finish in the top two by default. Though Proposition 14 orders that write-in votes be discarded, a pending appeal has allowed the candidates to remain on the ballot this November.
Mary McIlroy is challenging Democrat Loni Hancock, the 9th State Senate District incumbent. Hancock has been serving since 2008 and prior to that served in the 14th Assembly District for six years. McIlroy hopes to unseat Hancock by appealing to working class voters. Her platform consists of "eliminating fees and tuition from California's community colleges and universities, keeping state parks accessible, and increased taxes on the rich." As detailed by California Secretary of State, Debra Bowen, "124,501 votes were cast in June's primary election. Of that, McIlroy received 0.6% of the votes and Hancock received 99.3% (Lisa Ringer, a Libertarian candidate, received the remaining 0.1%)."
Lee Chauser is running against Democratic incumbent Ricardo Lara for the 33rd California State Senate District. Chauser received three votes as a write-in candidate. Chauser speaks critically of the two major parties on his campaign website, stating:
Democrats and Republicans have not been able to make a real change. Real change, involves taking the wealth of the rich few and putting to work for the people, instead of, those rich people who don't really need it.
In addition to taxing the rich, Chauser's platform consist of "free tuition for all students, a fair salary for teachers and professors, and free health care, housing, and welfare." Once a running mate of Chauser's, Eugene Ruyle is heading a race of his own.
Ruyle is representing the PFP in California's 15th State Assembly District. Ruyle ran for congress in 1982 as a PFP candidate while living in Long Beach, California. He has since run twice: once in California's 10th Congressional District and once in California's 6th Congressional District.  Bowen's website details the results of the primary, stating, "Ruyle received 0.2% of the 68,584. Current State Assembly member Nancy Skinner received the remaining 99.8% of the votes." While speaking to Ruyle about his Assembly District race, he expressed his frustrations with California's Top-Two open primary system:
Although it seems to widen voter choice in the primary, it actually restricts voter choice in the general election… This means that minor party candidates are essentially excluded from the election. As a result, in 2014, we don't expect to have any Peace and Freedom Party candidates in statewide elections.
Proponents of the system, however, believe California is already experiencing increased competition and voter choice.  This is explained by comparing California's 2010 congressional elections to the elections of 2012:
"During the 2010 midterm elections just two years ago, before the new Top Two open primary took effect, out of California's fifty-three congressional districts, exactly zero US House seats changed parties and only two new representatives were elected."
This November, California has at least five congressional races in which incumbency is threatened. Congressional incumbents Waxman and Stark have been serving since the 1970s and are engaged in their first competitive race in decades. The marginalization of the Peace and Freedom Party remains a possibility, but so too does a less partisan, more competitive congress in California.