Credit: Shawn M. Griffiths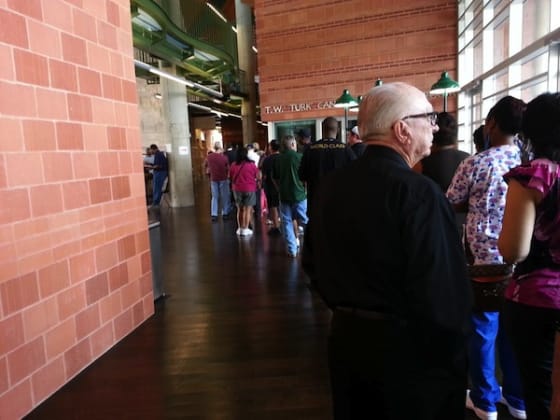 Early voting in Texas began on Monday, October 22. There are over thirteen million people registered to vote in the state and, while some of these people will choose to not participate in the voting process this year, many of the individuals who do will vote sometime between now and Friday, November 2.
As I opened the door to the Cedar Hill Government Center, I was astonished by how long the line was to vote. It was 2:30 on a Tuesday afternoon and the line stretched from one end of the building to the other. A county worker greeted me when I entered through the entrance of the government center and explained how the electronic ballot worked and told me that the wait could be as long as half an hour.
Various observations were made by people standing around me while I waited in line. One woman commented that presidential elections are the only time people vote and that is why they should have more voting booths.
A good comparison to make when examining national interest in politics is how it is similar to Olympic fandom. Many people only care about the sports and the athletes featured in the Games every four years, despite the fact that there are other events they compete in. Mid-term elections never get the same amount of attention as presidential elections do and voter turnout in local elections is extremely poor. It will be another four years before we see this level of political interest again.
While the Texas voter ID law is tied up in litigation, voters in Texas are only required to bring their voter registration cards to the polls. However, if someone does not have their voter registration card, they can present their driver's license as a substitute. I always opt to show my driver's license, because it is easier to rely on something I keep on my person on a daily basis. They scanned the license into their computer database and set me up.
The ballots in Texas are likely longer than ballots in other states because Texans elect all judges in the state. The ballot, of course, varies in each precinct because of county and local courts, but the state has two supreme courts and the justices on both benches must answer to the voters at some point. Texas is one of two states with two high courts; one for criminal cases and a separate one for civil cases.
Electing judges is an issue that is always a subject of debate. It requires judges and justices to be held accountable to voters, but there is the possibility that judicial decisions can be compromised if they have to be concerned about re-election. A system where judges are appointed could also lead to voters being more mindful of who they elect to the highest offices in the state.
Depending on where a voter lives in Texas, the ballot will be as long as four to five pages long for the 2012 general elections, which likely makes the option of straight ticket voting more enticing for some. It is a voting option that helps perpetuate the dominance of the two mainstream parties, because it is easier to hit one button and be done with it.
I knew who I wanted to vote for when I entered the Cedar Hill Government Center and my ballot included Republicans, Democrats, and Libertarians. I don't believe one party has all of the answers. We need to promote the collaboration of different political philosophies with the ultimate goal of finding the best solutions, the practical and pragmatic solutions, that put Americans first.
There are many people in this country who will choose to vote with a "lesser of the two evils" mentality. These are voters who feel disenfranchised by the system and believe it is the only option they have to ensure their vote has some measure of relevance, but if someone votes the way they truly want to then that is not a vote wasted and it sends a message to Washington.