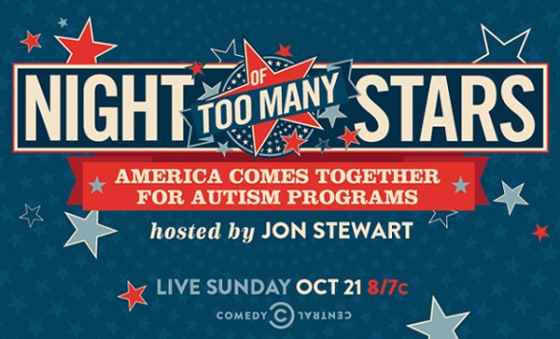 Sunday night, Comedy Central presented the fourth airing of the Night of Too Many Stars: America Comes Together for Autism Programs, hosted by Jon Stewart. The two-hour special was a star-studded fundraiser to benefit education and service programs dedicated to autistic individuals and their loved ones.
Jon Stewart introduced the night explaining that 1 out of 88 children is diagnosed with autism and that the condition is far from being sufficiently understood. Today, the only proven treatment is appropriate education and services. Stewart enticed the audience to open their hearts and their wallets to benefit those with autism. Funds raised by the event will be donated to programs like "Have Dreams" and "Project Search."
To bring in the donations, the event featured a live celebrity telethon and a previously recorded auction, filmed at the Beacon Theatre in New York. Among the stars who attended were Tina Fey, Stephen Colbert, Tom Hanks, Julianne Moore, Bill O'Reilly, and many more.
The theme, "America Comes Together," was emphasized by Stewart to bring people together to benefit the cause. "Enemies" Chris Matthews and Bill O'Reilly, for example, were called together to debate the political issues of the day, such as the national deficit (while inhaling helium from red and blue balloons).
The night raised over $3 million and demonstrated attendees' ability to put differences aside for the sake of a cause.
Since the premier "Night of Too Many Stars" in 2006, the event and partner organization, New York Collaborates for Autism, have raised over $14 million and funded educational and service programs throughout the country.