Vote in the "7-Election" at this national convenience store.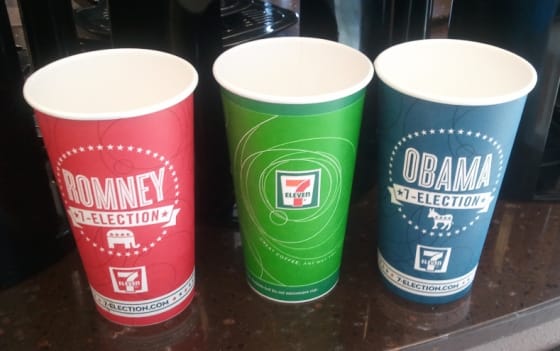 What do chicken wings, cocktails, cupcakes and coffee have to do with politics? More than you'd think.
In downtown San Diego, new Gaslamp Quarter bar/eatery The Commons is selling Right Wing and Left Wing deals. For $12, you can order five Buffalo wings and a Right-Wing cocktail (peach vodka, soda water and cranberry juice); or five spicy bleu wings and a Left-Wing drink (blueberry vodka, blue Curacao liqueur, soda and Sprite).
Remember when alcohol sales were banned on Election Day? Those weren't the days. This year on November 6, The Range Kitchen & Cocktails in Hillcrest will offer $5 Donkey Punch Elephant Elixirs and Red Money shots. On the menu: Swing State Sliders and Freedom Fries.
Top Chef Brian Malarkey's chic downtown Searsucker restaurant is mixing up an "ever-changing, flip-flopping, but always optimistic" Pundit's Punch, made with rum, ginger, lemon and melon (but that may be reported differently tomorrow).
La Jolla cupcake store Sprinkles is sweetening the city with a campaign that includes "election boxes" for their confections that read Obama and Romney.
Nationally, 7-Eleven is also letting its customers show their political preference – on coffee cups. When you buy a cup of Joe, there's a red Romney cup and a blue Obama cup to choose from.
Undecided or unaffiliated coffee drinkers can use the green cup to carry their caffeine injections.
It should be noted that for the past three Presidential elections this unscientific "7-Election" poll has eerily mirrored the actual national results. As of today, Obama was leading Romney nationally by a 59 percent to 41 percent margin.
Obama has a 62-38 lead in California; and a 63-37 head of steam in San Diego.