The 2012 Classy Awards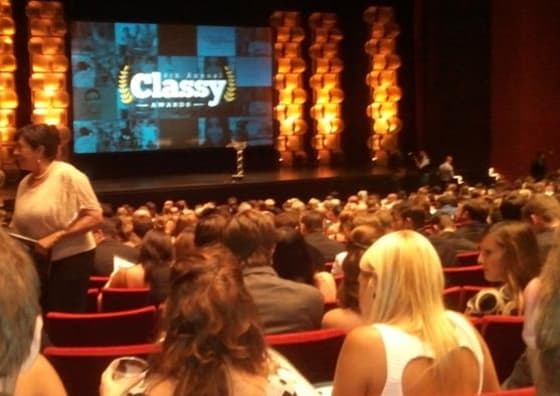 "You stay classy, San Diego...." was the infamous sign-off line by comic actor Will Ferrell in the movie Anchorman: The Legend of Ron Burgundy. In real life Stay Classy is no joke - the six-year-old local company develops online fundraising products used by nonprofit organizations around the world.  The company also recently held the "San Diego Classy Awards" at the San Diego Civic Theatre.
In 2006, Stay Classy founders Scot Chisholm and Pat Walsh were looking to fund raise for a charity. They couldn't find a platform that could turn supporters into fundraisers – so they created one.
Today, Stay Classy's fundraising solution is used by charities, foundations, churches, schools, clubs and others.
The company, which had had $250,000 in revenue last year and has helped 2,000 nonprofits raise more than $5 million, was recognized by Bloomberg Businessweek as one of "America's Most Promising Social Entrepreneurs."
Naturally, the company came up with a recognition program called The Classy Awards. Started in 2009, it's now the largest philanthropic awards ceremony in the country – celebrating the top nonprofits, socially conscious businesses and individuals worldwide.
The Classy Awards are considered the Oscars of the world of philanthropy. More than 2,000 nominations were submitted last year from 49 states and more than a quarter of a million votes were cast for award finalists.
The awards ceremony gathers more than 1,500 philanthropic leaders to the San Diego Civic Theatre.
In 2012, the "Charity of the Year" was the San Diego-based Wounded Warrior Project. The winner of the "Most Effective Awareness Campaign By A Charity" went to another local organization, Invisible Children.
Also this year, a special video presentation by Maria Shriver paid homage to her mother, Eunice Kennedy Shriver, founder of the Special Olympics.